PGA TOUR 2K23 is here, and it's More Golf, More Game as we introduce Seasons to the PGA TOUR 2K franchise.
Seasons in 2K23 will be refreshed every 10-12 weeks and are jam-packed with new content each season, such as new rewards, courses, apparel, DLC Golfers, and more. Every Season will feature a Clubhouse Pass, which includes exclusive rewards unavailable in the storefront. Claim new rewards and content by earning XP and climbing your way up the Clubhouse Pass tier ladder. Here are some things to know about the Clubhouse Pass before Season 1 launches!
WELCOME TO THE CLUBHOUSE PASS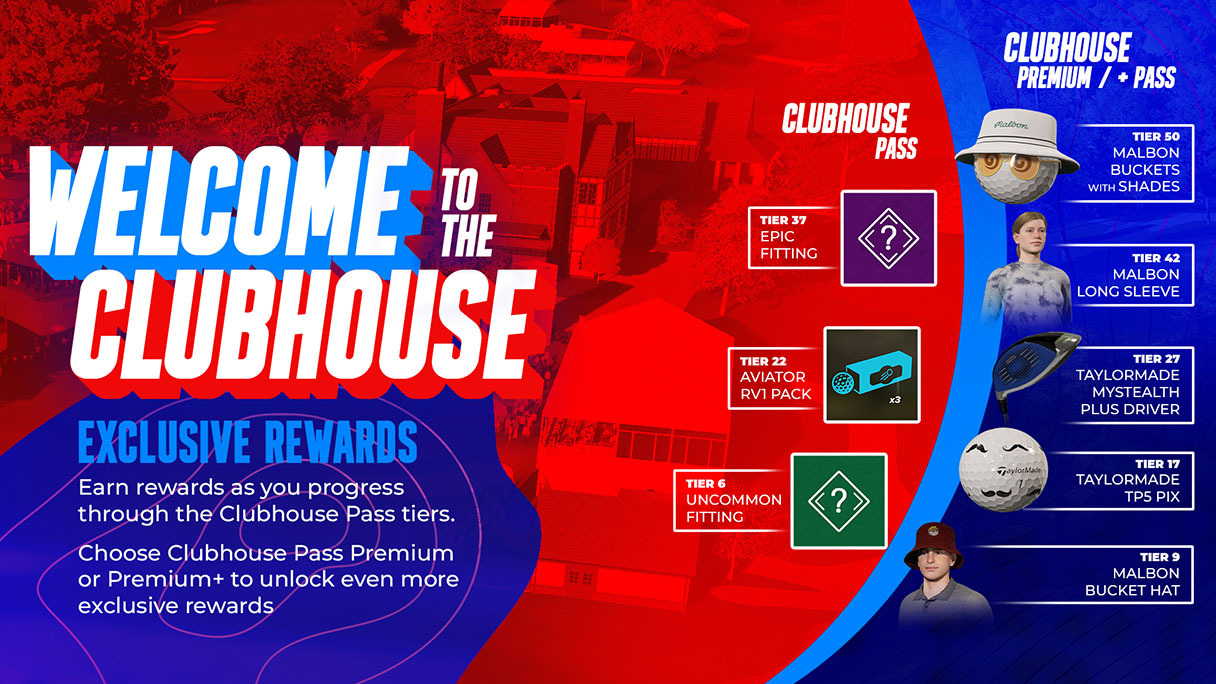 Before you take the tee box in 2K23, you'll be able to choose between three different Clubhouse Passes, each with varying perks:
Standard Clubhouse Pass (FREE) - There are 10 items that every player can earn in the Clubhouse Pass
Clubhouse Pass Premium ($9.99 USD) - This grants you the opportunity to unlock all 50 Premium Rewards
Clubhouse Pass Premium Plus ($19.99 USD) - This grants you the first 20 Premium Rewards and the opportunity to unlock the rest of the Premium Rewards
Purchasing the Clubhouse Pass Premium option allows you to redeem the Tier 1 reward: a Malbon Buckets golf ball with a bucket hat. But the party doesn't stop with Malbon, as 25 of the Clubhouse Pass rewards are from the brand, ranging from shorts, sweaters, outerwear, golf balls and so much more!
Also coming to Season 1 of Clubhouse Pass is the fan-favorite equipment brand, Taylormade, bringing you 16 redeemable rewards to be unlocked through tier progression, including irons, balls, and gloves.
Clubhouse Pass is the best way to acquire new gear for your bag and your wardrobe. Leveling up earns you new rewards, and reaching Level 50 earns you a special grand prize.
VISIT THE PRO SHOP FOR ELITE GEAR AND APPAREL
If you're looking for more swag, check out the Pro Shop, where you can find some of the best equipment and apparel in the game! On Day One, the Pro Shop opens with drivers from Titleist, Callaway, Mizuno, and Wilson. You can also find irons and putters from the Ben Hogan Golf Equipment Company.
PGA TOUR 2K23 is proud to feature the world's top golf brands, in addition to other renowned companies like Nike, Air Jordan, FootJoy, Tattoo Golf, Original Penguin, and so much more! Head over to the Pro Shop to browse the aforementioned brands, and be on the lookout for new items from Black Quail, Hugo Boss, and Greyson making their way to 2K23 throughout the year!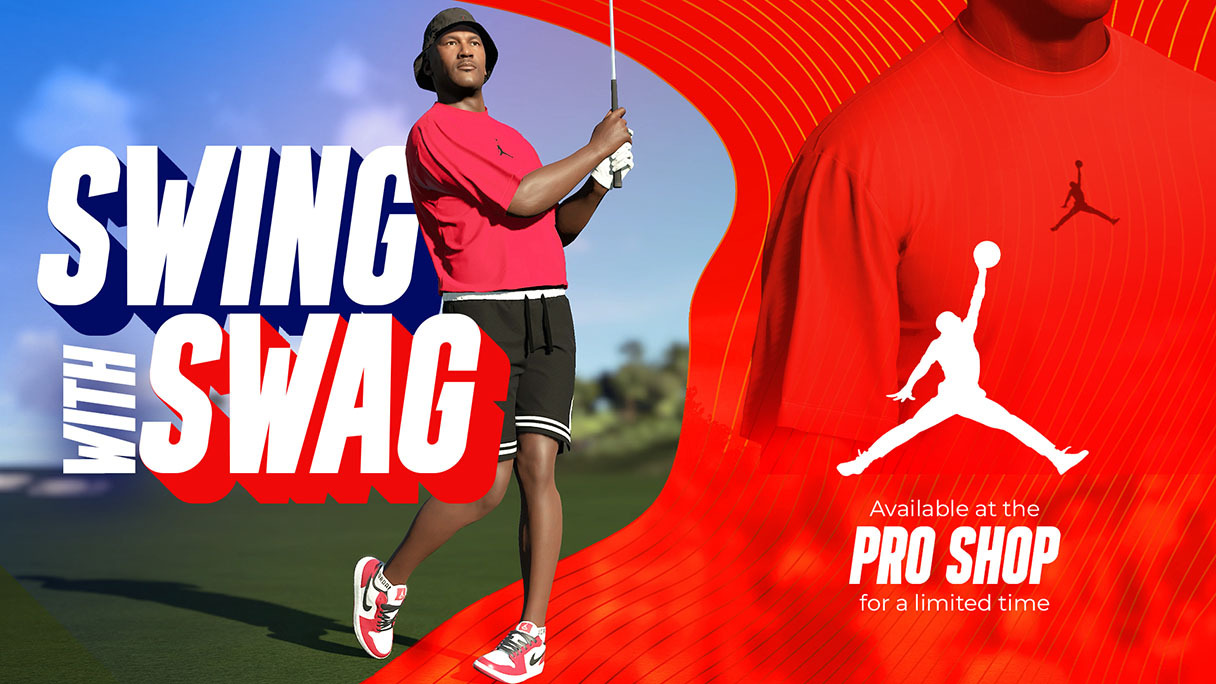 CHASE TOUR GLORY AND THE FEDEXCUP
Once you've got your MyPLAYER fitted, it's time to take your talents out on the PGA TOUR for a highly competitive experience as you look to make history! Pick one of the 5 MyPLAYER archetypes, whether you decide to drive for show or put for dough, the choice is yours! Play your way through big-time tournaments such as Shriners Children's Open, WM Phoenix Open, and The Genesis Invitational, all the way to the TOUR Championship. With over 23 licensed courses, your skill will be put to the test throughout the whole TOUR schedule in PGA TOUR 2K23!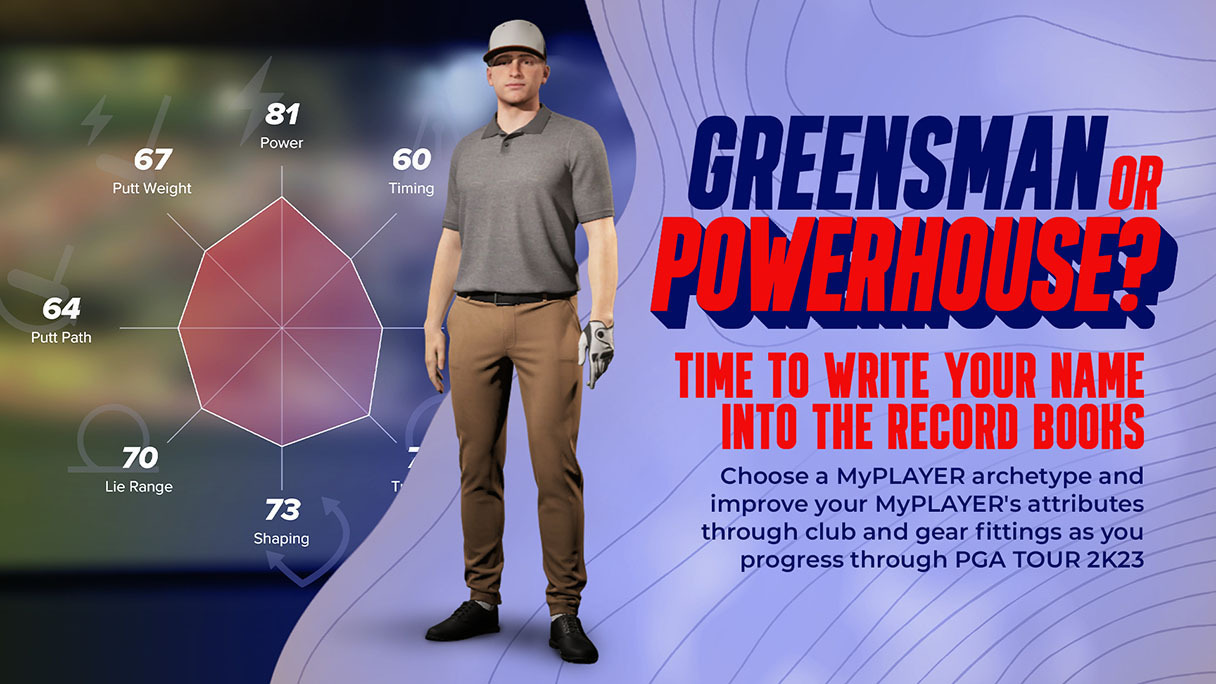 Go head-to-head with a diverse cast of rival pros including Tiger Woods, Collin Morikawa, Lydia Ko, Xander Schauffle, Lexi Thompson, and more. To beat the competition, you'll need to complete a series of challenges in order to prove you're the better player.
There's much more fun to come for PGA TOUR 2K23, with Michael Jordan and Stephen Curry set to make their debut as playable celebrities in-game. They're the first of many coming down the pipeline, and we can't wait to share more details with you. To give you a sneak preview, you can expect exclusive content with Dude Perfect, 100 Thieves, and Barstool Sports in the coming months. Until then, make sure you've secured a tee time by ordering your copy of PGA TOUR 2K23—we'll see you soon!