Hey folks, Jordan Ault and Craig Chapman, Senior Game Designers at HB Studios, here to give you more info on the Online Societies and Multiplayer Game Modes in PGA TOUR 2K21. We're both excited to share everything we can about the Online Societies & Multiplayer features that we have in store for you when PGA TOUR 2K21 releases on August 21st. Let's dive right in!
Play At Your Level: Difficulty and Accessibility Features for Rookies and Pros Alike
First and foremost, we set out with the goal to make an authentic PGA TOUR experience that can be enjoyed by everyone at any skill level. No matter if you're new to golf gaming or a seasoned veteran, we wanted to make sure that everyone can enjoy a round of golf as challenging or as easy as you'd like it. Accessibility was paramount for PGA TOUR 2K21 and as a player you have several Difficulty Settings you can select.
For the veterans of The Golf Club franchise, difficulty was always handled through club sets. And while it was a novel idea, it left those wanting something more accessible feeling a bit shorted—literally, because easier clubs meant shorter distances. But when you're out there playing as a PGA TOUR Pro you want to actually play like a PGA TOUR Pro. With PGA TOUR 2K21 you can play like a pro—on whatever level of challenge you desire.
Now, you are free to choose any of our 6 difficulty presets, from Beginner right up to Legend, there's a preset for everyone. And, if you're the type who wants to truly customize your experience, all of the Difficulty Settings can be set individually. You can really tailor your game to play it your way. Whether you want assistance when reading the lie, the greens, the wind, the elevation—anything really—we have the Pro Vision settings for that. Or if you'd prefer the challenge of doing it all yourself, you can do that too.
And before we lose the seasoned vets and hardcore players with all the 'easier this-and-that': the high end Difficulty Settings are more challenging than anything you have played to date. With Pro swing difficulty akin to that of the Master clubs of 2019, the new Master and Legend difficulties should provide you with hours of enjoyment… or frustration… or both?
Whatever your reason for choosing a higher difficulty, you'll get a nice boost to your Profile Level XP for the trouble; which means more rewards for you, faster.
Oh, and if you're playing a local match with your friends, each of your guests can customize their Difficulty Settings as well.
GET THE ONLINE PARTY STARTED: Online Multiplayer
There's a myriad of ways to participate in online multiplayer matches. Whether that be through matchmaking, Private Matches with friends, the PGA TOUR 2K21 Official Society, or any one of the many Societies created and run by players just like you! Not every round is a full 18-holes though – we realize a lot of our consumers don't always have the time and want their golf fix in shorter and more casual spurts.
Matchmaking and Alternative, Casual Match Types
In PGA TOUR 2K21 we offer 7 formats of play for you to choose from when playing Local, Private, and Matchmaking rounds. Here's a quick breakdown of all the formats.
Stroke Play
Stroke play counts the number of strokes each player takes to complete the round. With multiple players, the player with the least amount of strokes wins. (1 to 4 golfers)
Stableford
In Stableford you score points based on the number of strokes taken per hole. The player with the most point at the end of the round wins. (1 to 4 golfers)
Match Play
Match Play is a 1v1 format. The golfer who makes the lowest score on each hole wins a point. The player the most points, or a decisive lead, wins the match. (2 golfers required)
Skins
In Skins each hole is worth a skin. The golfer with the lowest score on each hole wins the skin. If two or more players tie then no skin is awarded, instead the skin is carried over to the next hole. The player who earns the most skins at the end is the winner. (2 to 4 golfers)
Four Ball
Four Ball is a 2v2 team format. The teammate with the lowest score on a hole earns their team a point. The team with the most points, or a decisive lead, wins the match. (4 golfers required)
Alternate Shot
Alternate Shot is a 2v2 team format. Take turns playing a shared ball with your partner until you reach the hole. The lowest scoring team on the hole earns a point. The team with the most points, or a decisive lead, wins the match. (4 golfers required)
Scramble
Scramble is a 2v2 format that lets each team decide which of their shots was better and then play from that location, for each shot. The lowest number of strokes per team, per hole, count toward the final score. The team with the lowest score at the end of the round wins. (4 golfers required)
For Matchmaking the formats on offer will be updated periodically. To kick things off on August 21st we'll have Match Play (1v1), Scramble (2v2), and Wagers (2 to 4) all available for you to dive right in.
We wanted to make sure everyone was on an even playing field during Online Matchmaking and that there was something for both veterans of The Golf Club franchise and newcomers alike. So, all Matchmaking matches will be played on the Pro Difficulty preset.
The Pro Difficulty preset offers a challenging swing input akin to the "Master Clubs" of TGC 2019, but with some additional aids that offer support for the newcomers to series. We want as many people playing together as possible, and the Pro Difficulty Preset is the best of both worlds.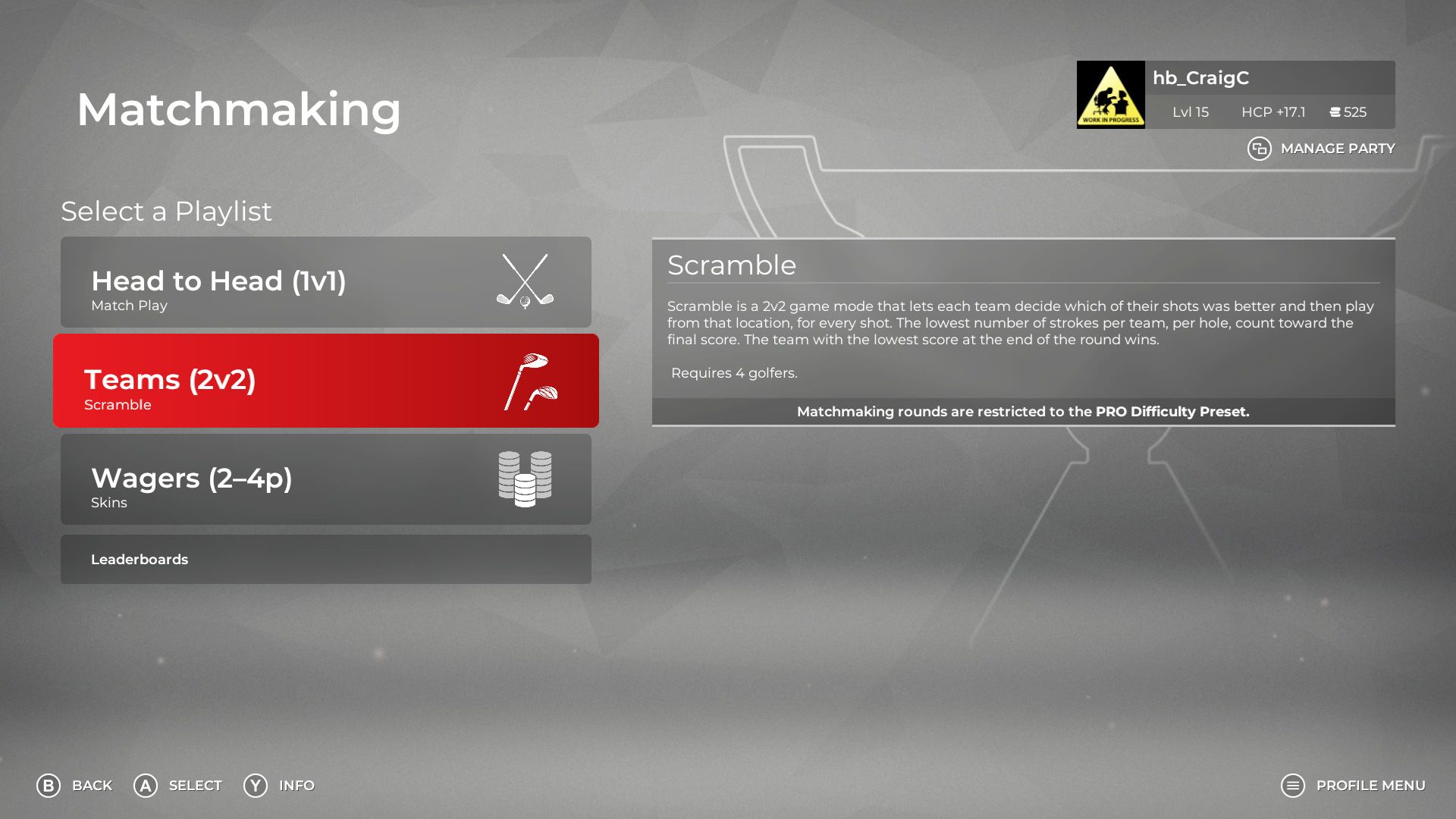 Private Match
If you want to get in a custom round with your friends, Private Match is the way to go. Play in any of our 7 game modes; Stroke, Stableford, Match Play, Skins, Four Ball, Alternate Shot, or the brand new 2v2 Scramble. Choose any course from our library of 36 official courses, or from any of the amazing courses created by our community of talented course designers. Set course conditions, pins, and tees to suit your group. You can create a match with wide open Difficulty Settings or restrict them to have everyone play on the same difficulty. The great thing about Difficulty Settings restrictions in Private Matches, is that they are also available in Online Societies.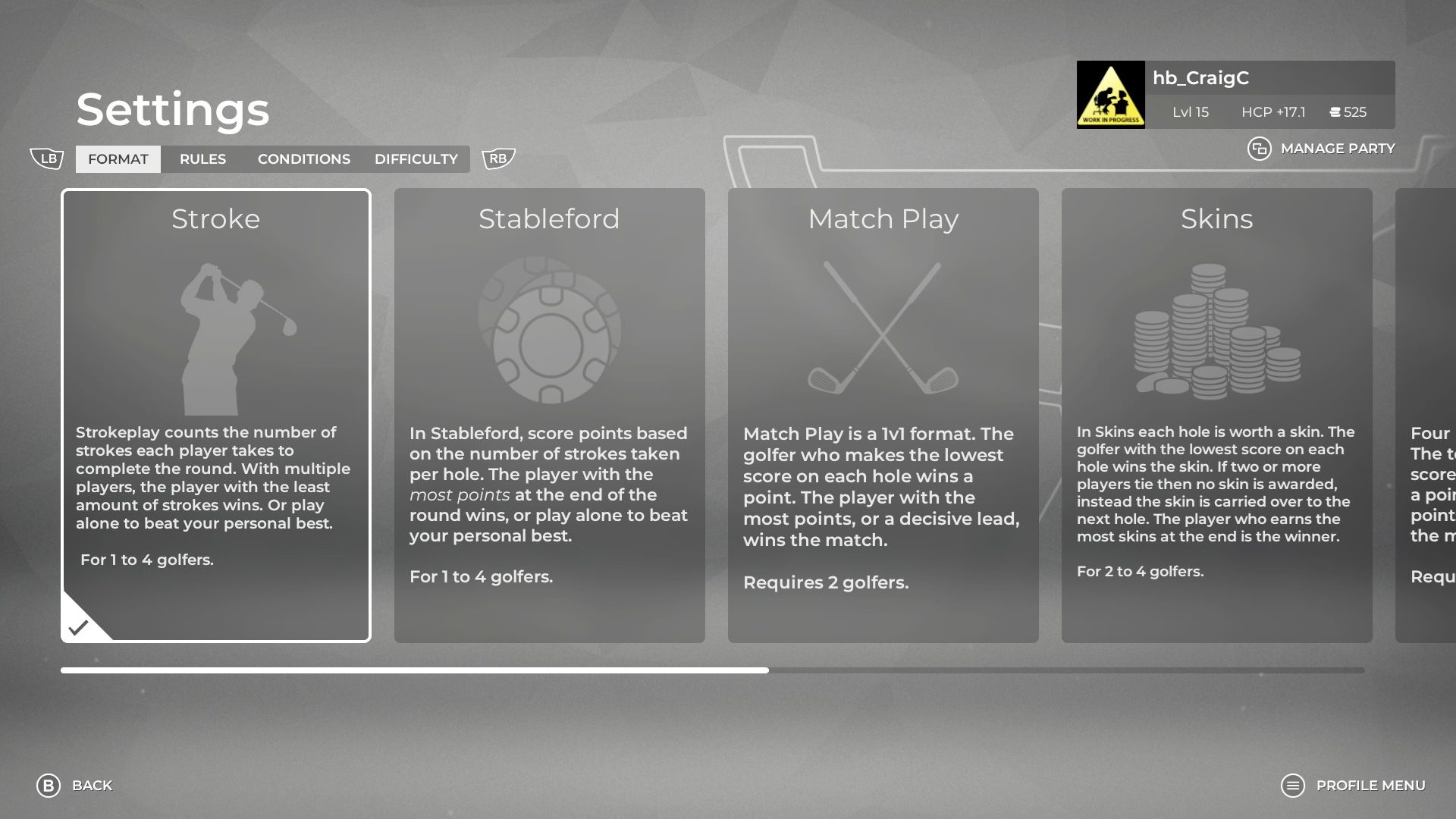 RUN THE CLUBHOUSE LIKE A BOSS: Online Societies
Those of you who are familiar with HB Studios' last couple golf games will remember Online Societies, which make a return in PGA TOUR 2K21. For all the others who are new to our games, here's a primer. Online Societies are user-created clubs that you can set up with your friends, or join with a group of strangers. Anyone can create one, and the players who run these Societies can schedule Stroke Play tournaments for all members to compete in. Link a few of these events together, and you've got yourself a whole season! And because it's your club, you can make the rules to your liking, or the liking of your members!
A Society for Everybody
There are a ton of options available when setting up Society events. Event creators can choose to any course from the course library, set up difficulty restrictions to even the playing field (or leave them wide open), put in-game currency on the line in the form of entry fees for bigger prize purses, create main and alternate events, set up a full custom schedule, set handicap requirements, and so much more!
Online Societies are a place for you to play with other like-minded users in a relaxed, but competitive environment. It could be that you're just here for the love of the game, the camaraderie of good friends, the gentle nudge of self-betterment... or maybe you want to line your pockets with a piece of the prize purse. Online Societies has a place for you. Find a Society that fits you, and join in. Play the events set up by the Societies' admins at your leisure during their specified timelines. If you like to mix things up, join 2, or 3, or 10 Societies at once.
And if you'd rather be the one in control: start your own. Make it a closed club for only you and your friends, a private one that requires your sign-off on new members, or make it open to the public. Include an optional membership fee, or handicap range; or don't. Keep it as exclusive, or inviting as you like—there are no limits to the amount of members who can join.
Your Rough, Your Rules: Event Creation
Speaking of managing your own Society, we have some news to share about that too. In PGA TOUR 2K21 we've taken some time to help reduce the pressure on Society Admins by making it easier to create new events. An all-new Create Event flow is easier and more intuitive to navigate. It also gives you better high-level information, so you (or your fellow admins) can create the event you want quicker.
Start by setting real-world start & end dates for your event. Members will be able to complete their round(s) at their leisure between these two dates. If you want to get super-serious with your event planning, you can specify one or more Entry Requirements for the primary tournament. Optionally, you can set up an Alternate tournament for all the members who will be missing out on the main attraction. Anything from being season leaders in Earnings or Points; placing well in the last event; or reaching a rank threshold in any event past. Like previous titles, you can combine these requirements to build very complex season structures. Or ignore them in favor of a more freeform schedule.
Whether you're creating a complex event structure, or just firing up a one-off tournament, setting up the conditions for the event is the same. Select the button for the Main or Alternate event (whichever you're editing) to see the details for that tournament. Starting with choosing a course is always a good idea. You have access to all 15 licensed courses, and a range of great fictional courses that ship with PGA TOUR 2K21 right from the start. But you'll also have the ability to choose any user created course as the community adds their amazing creations to the course database. And don't forget that courses are cross-platform, so you'll never miss out on the good stuff, no matter where you play.
Events can be one to four rounds long, with all the trimmings available for each event. Set wind speed & direction, time of day, weather, green speed & firmness, and pin set per round—and a new addition this year—tee set per round. Set it to be Handicap adjusted, or not; set your entry fees & prize details, or not; override Difficulty Settings, or don't; and you're almost set. All that's left to do is give your tournament a catchy name—something that will attract the most elite golfers to your event—something like... The Inaugural Shaun West Charity Golf Tournament Classic.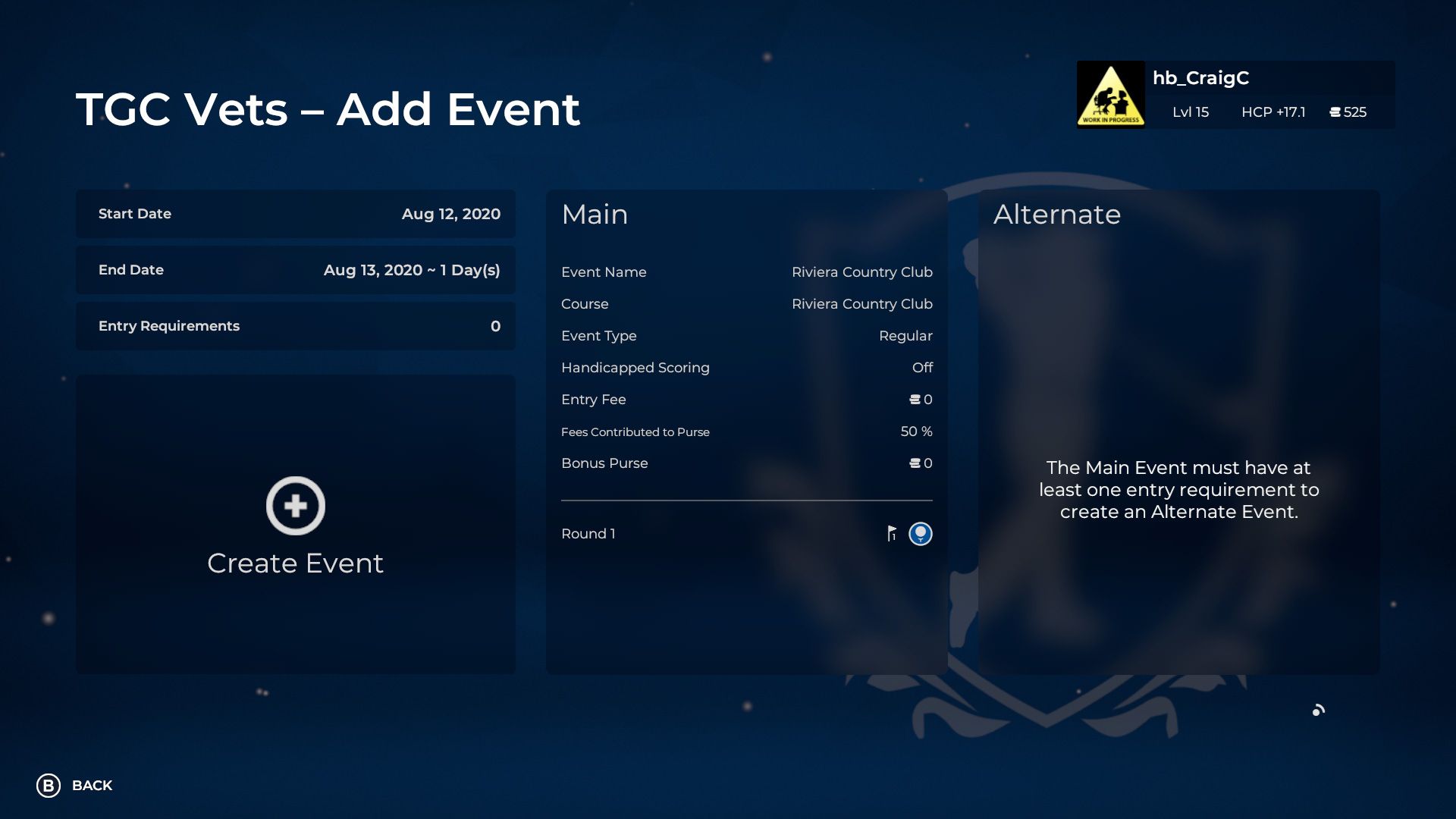 Difficulty in Society Events
In addition to the updated Event Creation flow, an all-new Difficulty Restrictions page has been added to the Administration section of each Society. This page allows the Society Admins to set up the Difficulty Settings for all their events. Make them as forgiving as you like to attract more newcomers, or as strict as you like to catch the eye of more veterans. If you're feeling extra inviting, you can leave these settings open so members can use whatever Difficulty Settings they prefer. These Society-level Difficulty Restrictions can be overridden on a per-event basis, but setting up a good baseline here is the best way to be consistent for your Society members.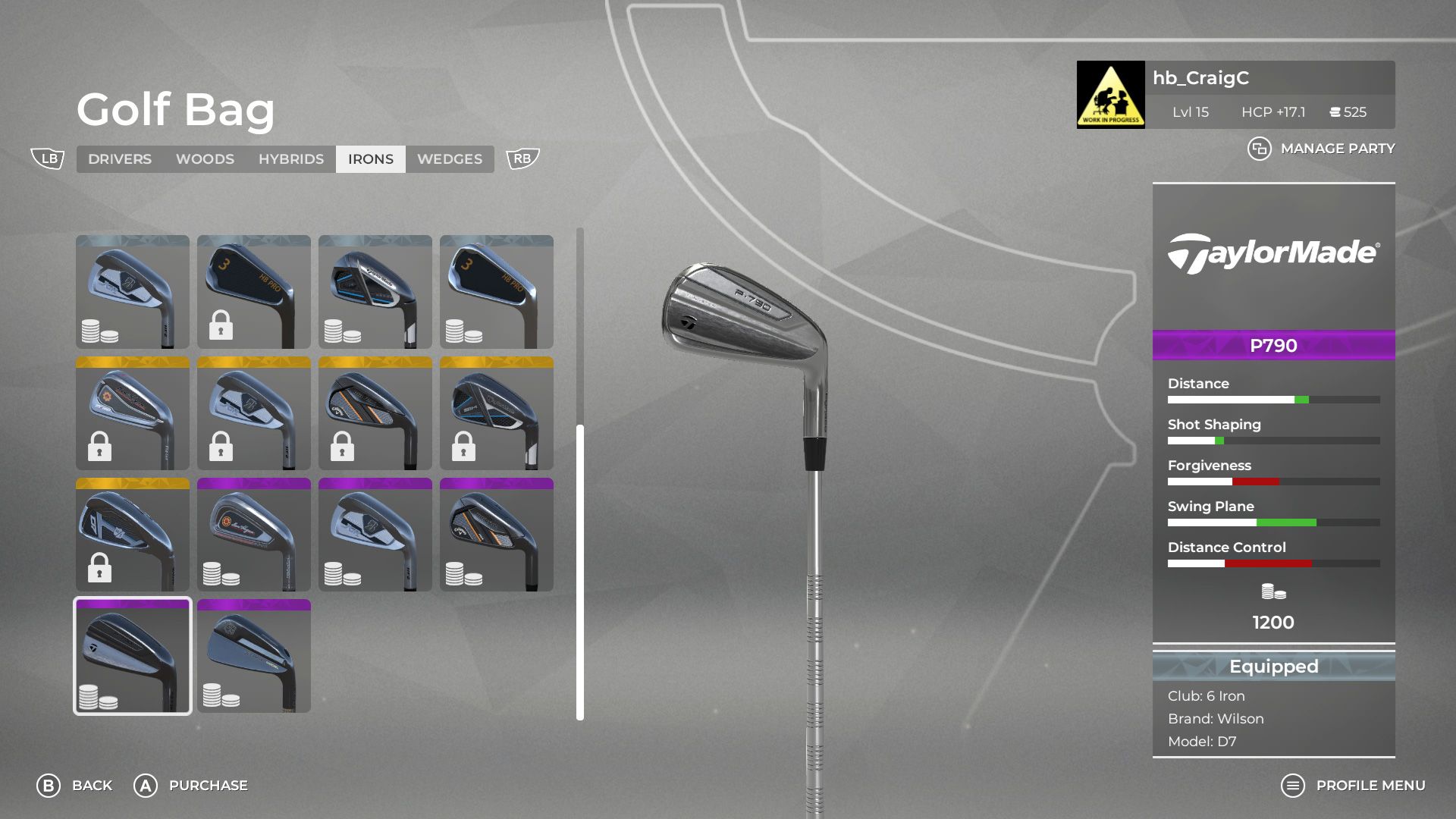 The PGA TOUR 2K21 Official Society
If all of this sounds great to you, but you're not sure where to start when looking for your first Society—or maybe you want dive head-first and take on the world—the PGA TOUR 2K21 Official Society will be always available with new events to play. The PGA TOUR 2K21 Community Management team will be at the helm of this flagship Society throughout the life of the title scheduling events on official courses, and the latest and greatest courses sourced from the community as well. Competition will be tough, but everyone is welcome to join, and the prize pools will be hard to ignore.
Club Attributes
One of the biggest new additions to the series is the introduction of Club Attributes. Because Club Attributes will be present throughout the game, whether it be in Matchmaking, Online Societies, or while playing PGA TOUR Career Mode, it was imperative that the attribute system couldn't be "gamed" or exploited. To accomplish this, Club Attributes were approached with horizontal balancing that puts the onus on the players find the clubs that best suit their game, over "these are the best clubs in the game". There are no "Best Clubs", just lots of options for you to build your bag your way. With every benefit there is a drawback.
Are you a solid hitter with your swing timing? You can probably take a club with a larger Distance rating and sacrifice some Forgiveness, making it harder to nail that swing timing. Do you struggle with keeping your swing line in the swing plane? Find a club that offers a boost to the Swing Plane attribute, but keep in mind that your Distance Control is going to take a hit. Wherever one attribute increases another decreases. So it's up to you to find a set of clubs that best compliments your game.
Club Attribute Breakdown
Distance
Gameplay: Determines the max carry distance, launch RPMs, and apex of a shot.
Counter Attribute: Forgiveness (+Distance equals -Forgiveness)
Pro: Increased distance offers more scoring potential on long holes, with well struck shots.
Con: Reduced hook/slice control (Forgiveness) can lower FIR and GIR percentages for a lesser skilled golfer.
Forgiveness
Gameplay: Impacts the downswing timing forgiveness. Poor timing tilts the spin axis on the ball, resulting in off target shots.
Counter Attribute: Distance (+Forgiveness equals -Distance)
Pro: Increased hook/slice forgiveness keeps you out of the hazards, and on target more often than not.
Con: Reduced distance can make scoring on longer holes more challenging.
Swing Plane
Gameplay: Impacts the swing plane forgiveness. Missing the swing plane adds push or pull to a shot.
Counter Attribute: Distance Control (+Swing Plane equals -Distance Control)
Pro: Increased push/pull forgiveness keeps you out of the hazards, and on target more often than not.
Con: Reduced Distance Control makes it harder to dial in that distance, resulting in more over/under shooting of your target.
Distance Control
Gameplay: Impacts the backswing to downswing transition window. Backswing transition point determines the swing power.
Counter Attribute: Swing Plane (+Distance Control equals -Swing Plane)
Pro: Increased Distance Control reduces the chance of an over swing or an under swing, keeping you on target.
Con: Reduced Swing Plane forgiveness increases the chance of pushing or pulling your shot.
Shot Shaping
Gameplay: Impacts the amount of fade/draw/spin control that can be done using the True Shot shaping feature.
Counter Attribute: Various
Pro: More flexibility with shot shaping means more ways to attack the target.
Con: A situational attribute that doesn't come into play unless the player chooses to make use of it.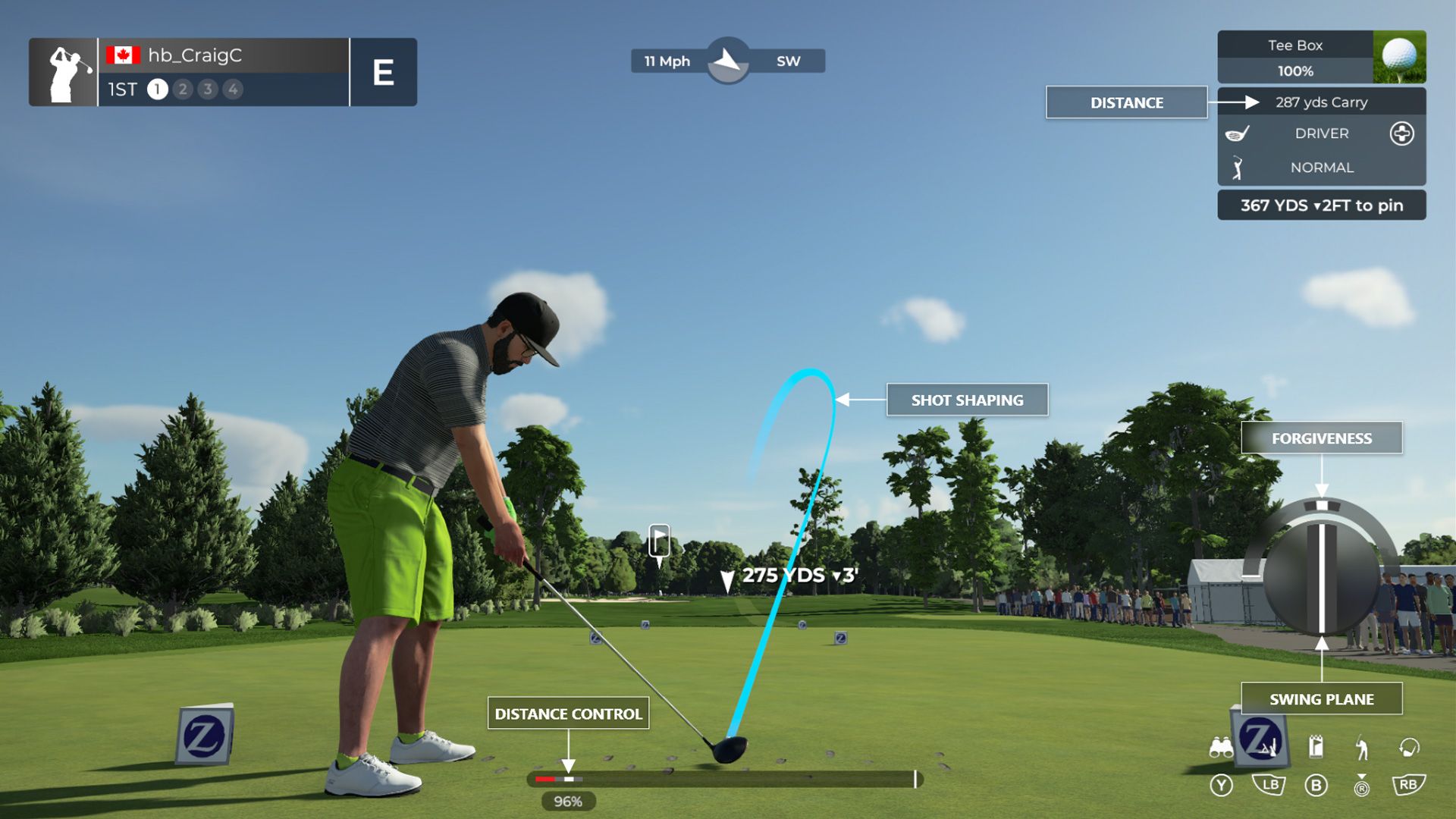 As you can see, there's a lot to consider when building your golf bag, depending on the course you're playing, your personal preference and ability, not to mention your favorite brand(s). With so many clubs from top quality brands like TaylorMade, Bridgestone, Ben Hogan, Callaway, and Wilson there's no shortage of options to build a truly unique golf bag tailored specifically for you.
See you on the green!
We both share in the excitement of the entire team here at HB Studios and 2K with the release of PGA TOUR 2K21 right around the corner. The support from the community so far has been above and beyond, and we can't wait to see you all out on the course (or in the weeds...) on August 21st!
Craig Chapman
Jordan Ault