PGA TOUR 2K23 athletes Jon Rahm, Rickie Fowler, and Tony Finau are all currently top 10 in the FedExCup standings, and have a good chance of securing their first FedExCup title. The competition is fierce, but you can become a FedExCup Champion of your own in Season 5 of PGA TOUR 2K23.
Season 5 boasts new rewards, exhilarating events, and fresh 'fits, so don't wait to get in the game! From Bogey Boys apparel* available to earn (for Premium and Premium Plus Pass holders only) to updated Smerf challenges***** and more, there's plenty to get excited about as the real-world 2022-2023 PGA TOUR season comes to an end.
SWING FOR SWAG
Grip it and rip it in Season 5 of PGA TOUR 2K23's Clubhouse Pass to earn apparel and gear from the top golf brands. Premium and Premium Plus Pass holders can climb their way up the Season rewards ladder and receive some of the most fashionable attire on the links**. 
Created by Grammy Award-winning artist Macklemore, Bogey Boys apparel* is a lifestyle clothing line that's ushering in the next generation of golfers with modern fashion designs. Featuring Caddyshack cardigans, pinstripe polos, and vibrant vests, you can walk in your putts with stylish looks all Season long.
Before technology influenced how golf balls and clubs were made to increase distance and forgiveness, golfers relied on trusty, no-frills hickory clubs to get the job done. Many hickory social clubs around the world pay homage to golf's ancestry by playing with antique, wood-shafted golf clubs, and you can join them in PGA TOUR 2K23. Assemble a vintage bag of your own with hickory relics such as woods, putters, and balls to experience the sport in its classic form.
Whether you're looking to earn new rewards or simply compete on the PGA TOUR circuit, be sure to climb the leaderboard this Season! The ranked leaderboard has been reset, giving you the chance to start fresh and prove you're the best of the best this Season.
EXHILARATING EVENTS AWAIT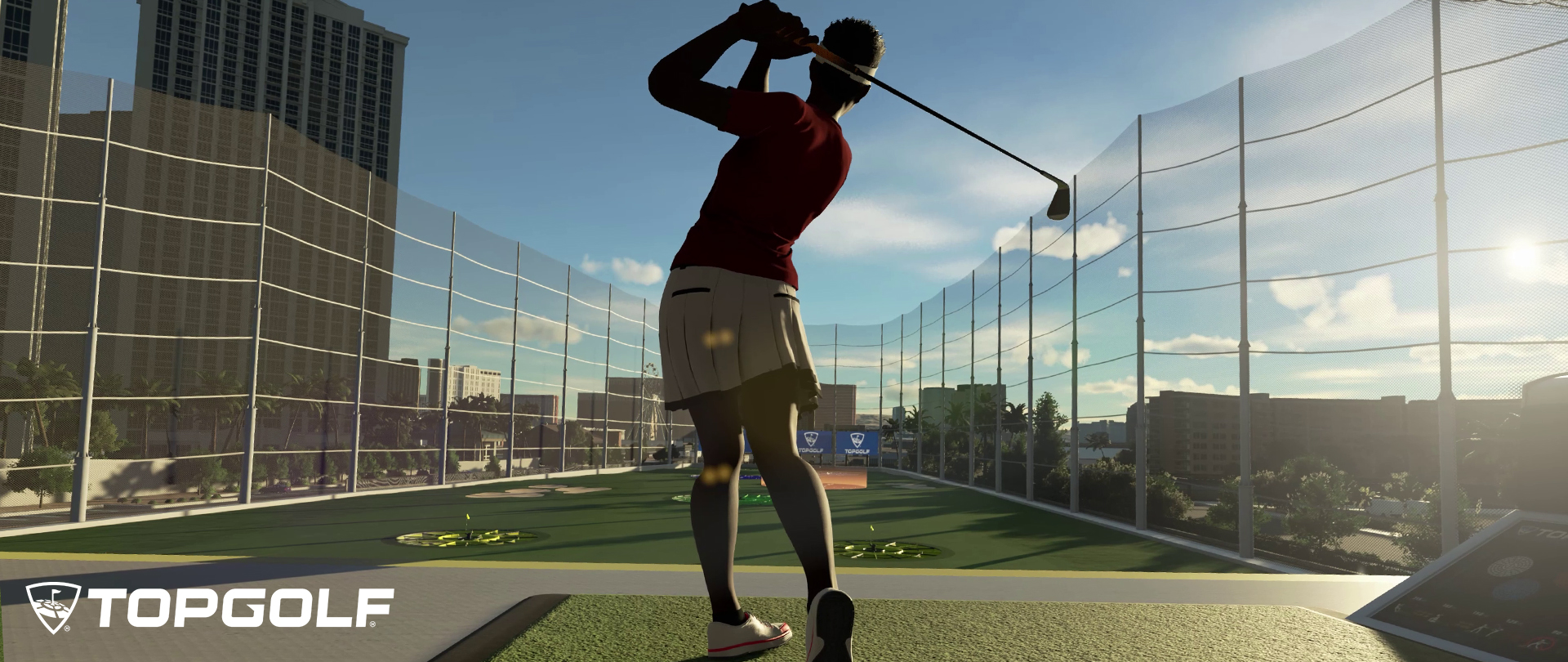 Take part in myriad events this Season, whether it's the race for the FedExCup trophy, bragging rights in the Topgolf 2K Swing Showdown, or rewarding daily and weekly Smerf challenges*****. Each event offers the opportunity to improve your skills alongside your peers and experience the most authentic golf simulation game available!
Teeing off on August 18, you can challenge fellow players in the Topgolf 2K Swing Showdown, where setting high scores nets you new rewards in return. The event works like this: during the TOUR Championship, influencers will battle it out in a real-life Topgolf challenge, and it's your job to beat their score in-game. Over the course of the 10-day event, do your best to beat their score for your chance to earn in-game and real world rewards!***
The best way to follow along with the events leaderboard and updated challenges is through the Smerf app. If you haven't already, be sure to join our Smerf community***** where you can share screenshots and clips, and claim rewards.
WELCOME, DUDE PERFECT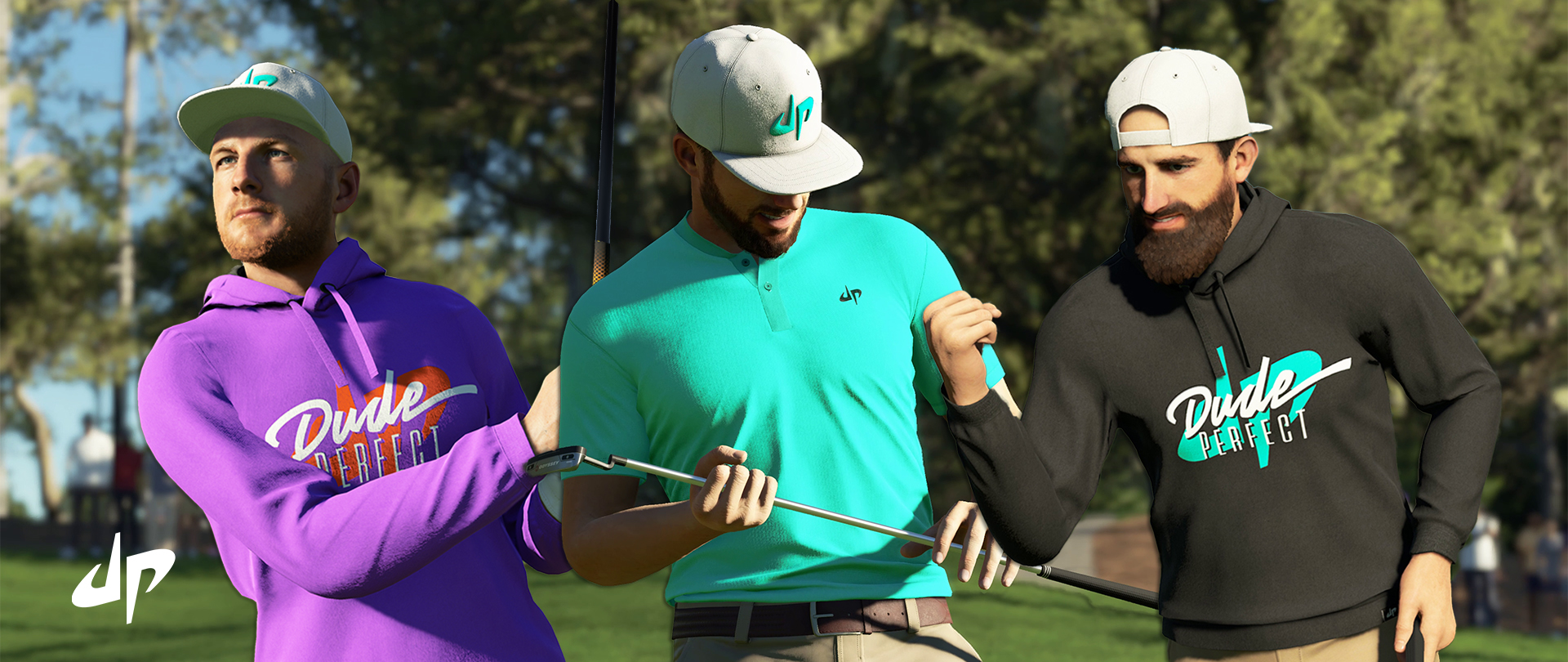 PGA TOUR 2K23's diverse cast of playable pros continues to grow in Season 5****, with the addition of Dude Perfect's Cody Jones, Garrett Hilbert, and Tyler Toney. Earlier this year, the popular trick shot specialists held a build-a-golf-club competition with PGA TOUR pro Collin Morikawa, to determine who among them would be scanned into the game. Cody, Garrett and Tyler emerged victorious. Whether you prefer to take the officially licensed courses head-on or draw inspiration from Dude Perfect's outside-the-box approach to outrageous shots is entirely up to you.
Season 5 of PGA TOUR 2K23's Clubhouse Pass   is bringing more rewards, events, and content for you to enjoy. Play as our friends from Dude Perfect or any of the PGA TOUR pros and celebrities at the prestigious East Lake Golf Club. Home of the TOUR Championship and Tiger Woods' impressive record-holding 23-under round in 2007, East Lake Golf Club has seen several greats walk its lush fairways; you could be next. Try to beat Tiger's tournament record with a 24-under finish to etch your name in history.
Even as the PGA TOUR season is winding down, there's still plenty to do in Season 5 of PGA TOUR 2K23. Swing your way to the top of the leaderboards, earn fashionable rewards, and break Woods' records. As for what's coming in the future, let's just say that there's a lot to be excited about regarding some big international tournaments on the horizon!
---
* Season 5 Clubhouse Pass Premium or Clubhouse Pass Premium Plus required.
**Clubhouse Pass rewards require unlocking with gameplay. Season 5 of the Clubhouse Premium Pass and Clubhouse Premium Plus Pass are available for separate purchase. Paid Premium Passes unlock additional rewards for the Season through gameplay. Progress and rewards reset at the end of each Season. For more information on Clubhouse Pass, and Premium and Premium Plus Pass offerings, go to pgatour.2k.com/2k23/clubhouse
***U.S. only. Ends 11:59PM PT 8/29/23. An eligible minor must have parent/legal guardian permission. Must connect PGA TOUR 2K23 account to Smerf. Rewards will be automatically entitled to PGA TOUR 2K23 account. Both accounts are free. Discount only redeemable in-store for gameplay purchases. Expires 9/30/23. Void where prohibited. 
For rules visit: https://pgatour.2k.com/2k23/smerf-swing-showdown-terms/
****All dates are estimates and subject to change without notice.
*****Must be 13+. An eligible minor must have a parent's or legal guardian's permission to participate.  Players must connect their PGA TOUR 2K23 account to Smerf to be eligible to earn rewards. Rewards will be automatically entitled to PGA TOUR 2K23 account. 2K Accounts and Smerf accounts are free. Void where prohibited. For full terms and conditions please visit: https://pgatour.2k.com/2k23/smerf-rules/