Since its release, PGA TOUR 2K21 is now making the rounds worldwide with all kinds of golfers and game enthusiasts. If you haven't yet had the chance to buy the latest installment of the popular golf game, you might be wondering what matches and modes are available to play.
If you are someone who likes to pitch your skills against other golfers worldwide, or you just prefer some fun with your family, PGA TOUR 2K21 does not disappoint. Here we've broken down the different types of gameplay on offer.
Local, Private and Matchmaking Rounds


Local Match
For those nights in with friends or some family fun on the sofa, local matches allow you to play up to three other guests; you can even choose to use the one controller between you. The pass-and-play game style does not require an online connection and is a great way to bring all the golfing action into the living room. If you're home alone, however, you can still enjoy some local match games on your own in one player mode.
Private Match
As the name suggests, a private match allows you to play online with only those you want to play with.
You can choose from two room types for private matches:
In-game party only

Name and password 
In-game-party only allows you to select party members that you have invited. Name and password enables anyone to join, providing they enter the room with the correct password. You can create or join private matches from the main menu.
Matchmaking
Choosing the matchmaking option will let you randomly match and play against other online gamers around the world. There are five different game modes available with either head-to-head (1v1), teams (2v2), wagers (2-4 players), Quick Match (3 Holes, 2-4P) and High Rollers (3 Holes, Skins, 1v1) options.
Game Formats
When playing in local, private, and matchmaking rounds, there are seven different game formats to pick from, giving players more variety in gameplay with shorter, quick-fix games and variations on point scoring.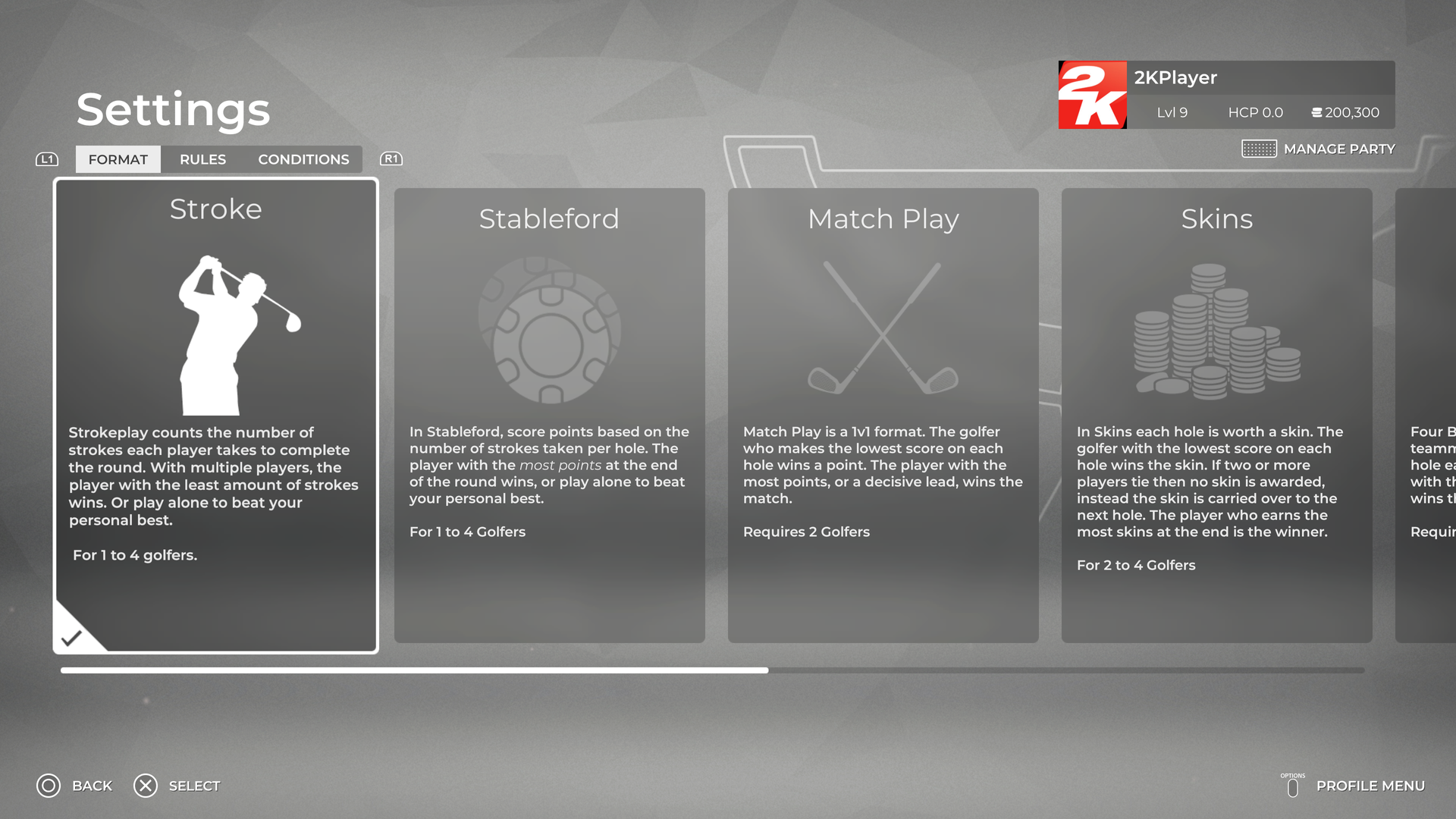 Stroke Play
(1 to 4 players)
Stroke play counts the number of strokes each player takes to complete the round. With multiple players, the person with the least amount of strokes wins. You can also play alone to try and beat your best scores.
Stableford
(1 to 4 players)
In Stableford format, you score points based on the number of strokes taken per hole. For example, you score eight points for a double eagle–otherwise known as an albatross, five points for an eagle, two points for a birdie, and minus three points for a double bogey or more. The player with the most points at the end of the round wins.
Match Play
(2 players required)
Match Play is a 1v1 format. The golfer who makes the lowest score on each hole wins a point. The player the most points, or a decisive lead, wins the match.
Skins
(2 to 4 players)
Play this mode to earn skins (in-game cash rewards) for every hole you win. The player with the lowest scoring hole wins the skin, however, If two or more players tie, then no skin is awarded, and instead, is carried over to the next hole. The player who earns the most skins at the end is the winner.
Four Ball
(4 players required)
Four Ball is a form of play where two players work together to play another two-player team. The player with the lowest score on a hole earns a point for their team. The team with the most points wins the match. 
Alternate Shot
(4 players required)
Like Four Ball, Alternate Shot uses the same 2v2 format. However, you must take turns sharing the same ball with your partner to reach the hole. Getting to the hole first earns your team a point, and the team with the most points wins the match.
Scramble
(4 players required)
Again, Scramble is a 2v2 format that lets each team decide which shots are better and then play from that location for each shot—the lowest number of strokes per team, per hole, count toward the final score. Again, the team with the lowest score at the end of the round wins.
Career Mode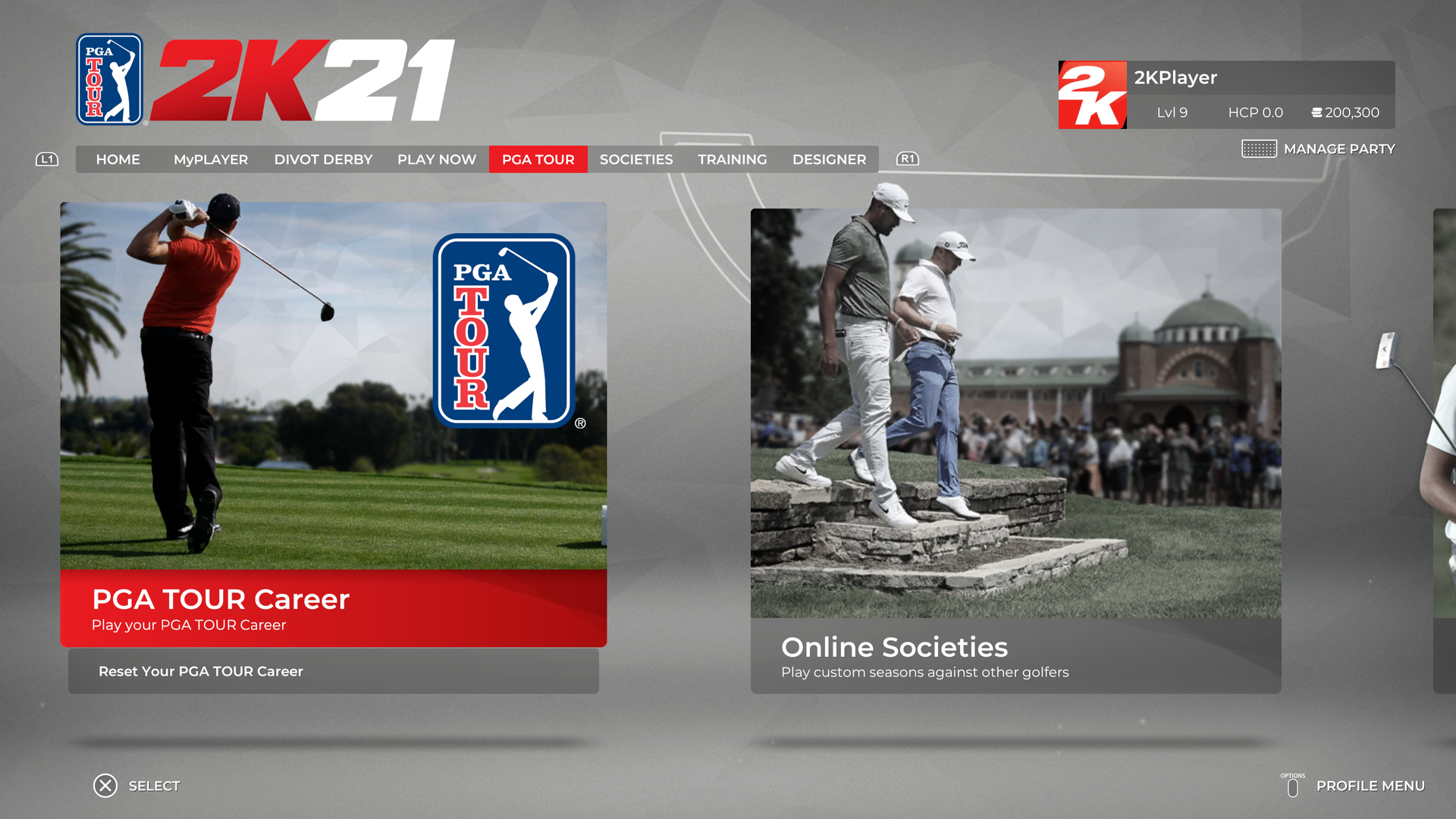 The all-new career mode features a whopping 30 events across 17 licensed courses—the most seen in the PGA TOUR series to date, along with the opportunity to pit your skills against one of the 12 licensed professional opponents.
This mode allows you to play matches with a storytelling element and a focus on levelling up to unlock rewards. Progression is vital if you want to enter certain events, as you will need to meet specific criteria before you participate.
As you move your way up in career mode, you will also unlock sponsors who give you various rewards for completing set goals. Levelling up your sponsor and achieving objectives is also key to unlocking unique items.
Online Societies



Anyone who has played previous seasons of PGA TOUR will already be familiar with Societies, allowing players to join their own clubs and play in various seasons, tournaments and events with players worldwide.
You can be in up to 10 societies simultaneously and compete against fellow society members in events set up by the society admins.
Anyone can create a society, and when you do, you will have complete control of the member's list, events, and other settings, including making other members have admin rights.
Training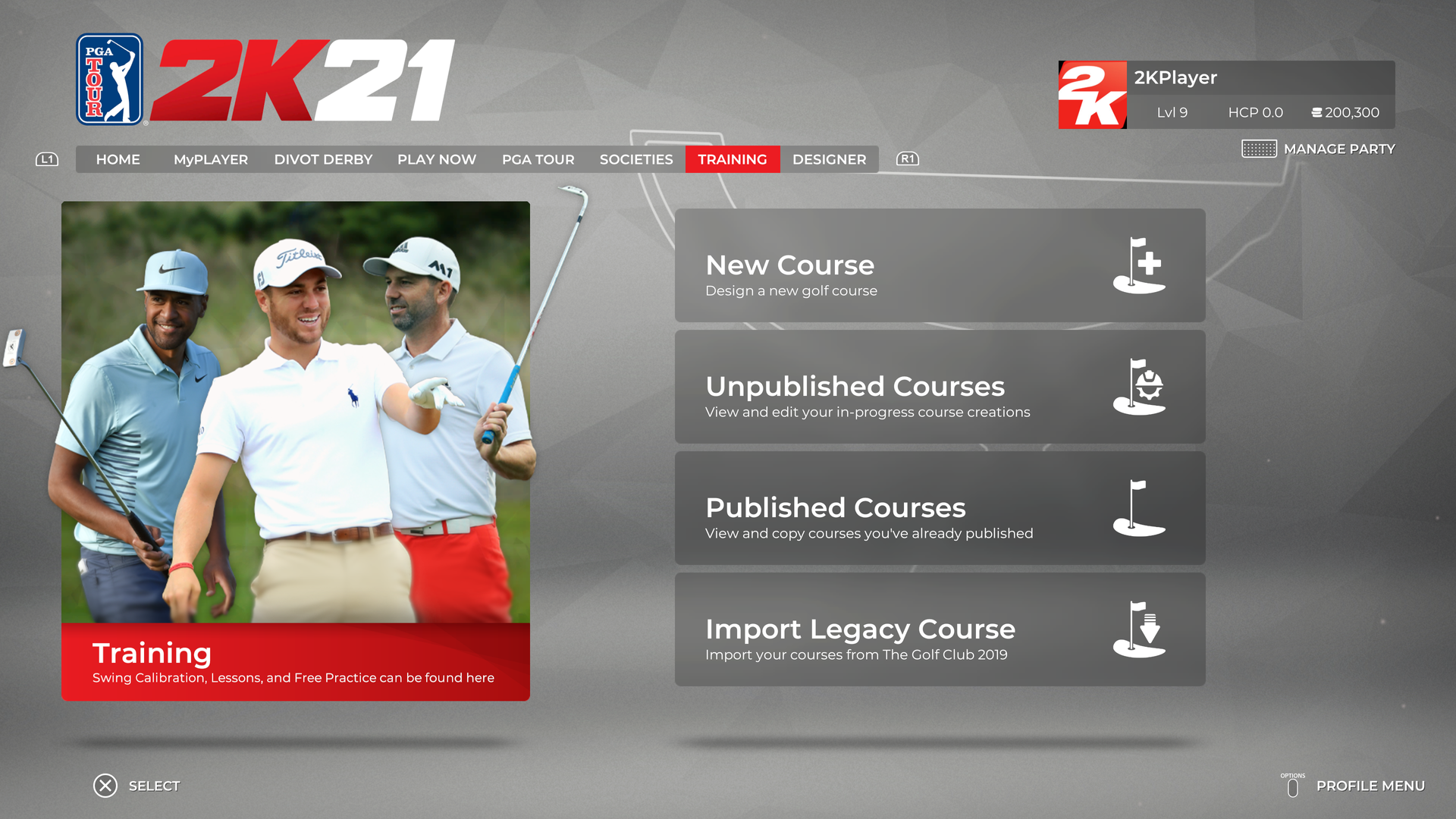 The training course is the perfect place to practice your swing, gather your thoughts and improve your playing ability. When taking shots on the driving range–a designated area for golfers to practice their swing–you receive feedback on the accuracy of your shot and back swing timing. Both elements are essential to master those precision shots.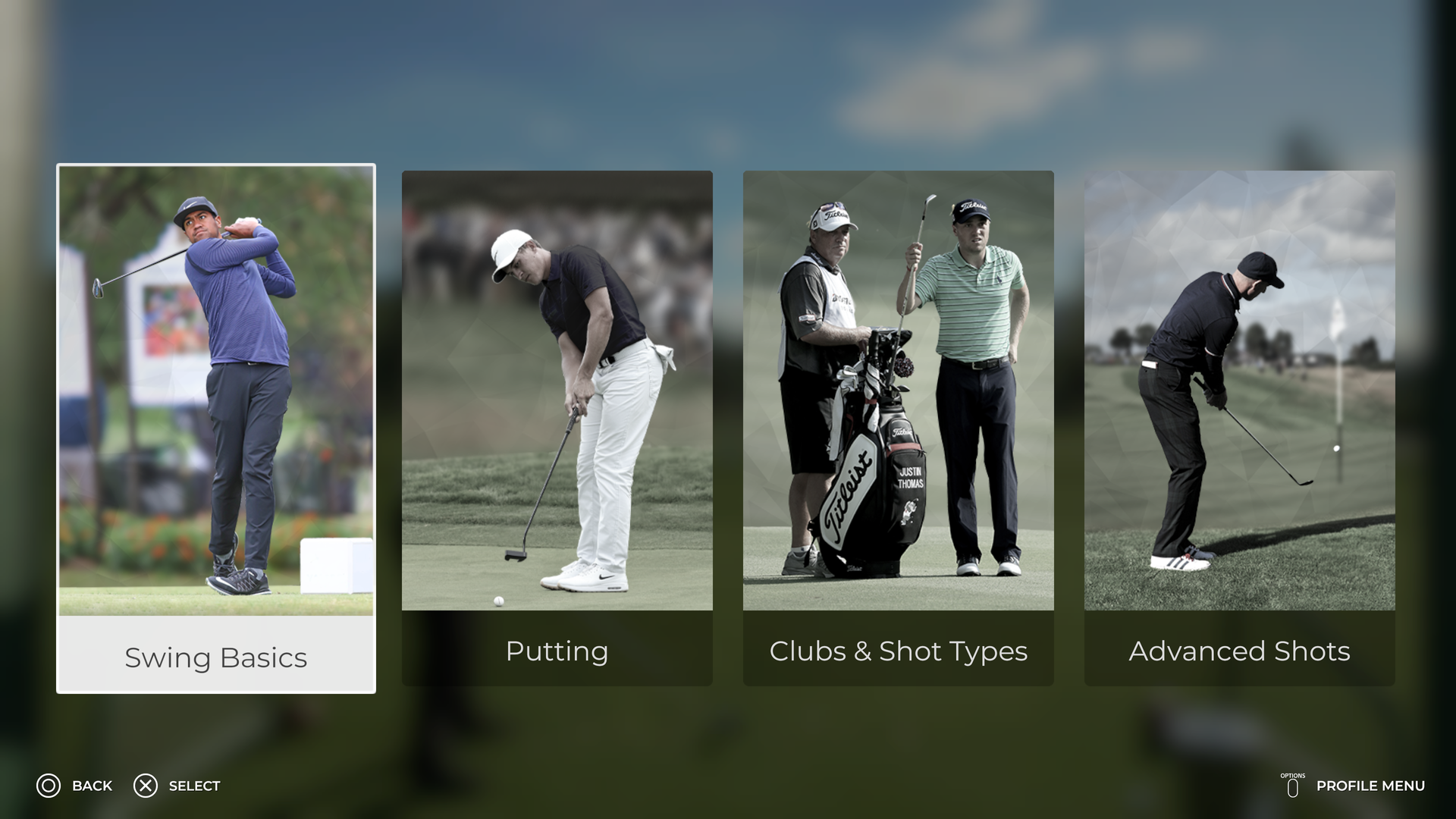 Within the training area, there are three modes for you to play around in:


Swing calibration: Find your perfect swing with feedback and tips on improving accuracy. 
Lessons: Take lessons on swing basics, putting, clubs & shot types.
Practice: Improve your game by chipping, putting and using the driver on the driving range.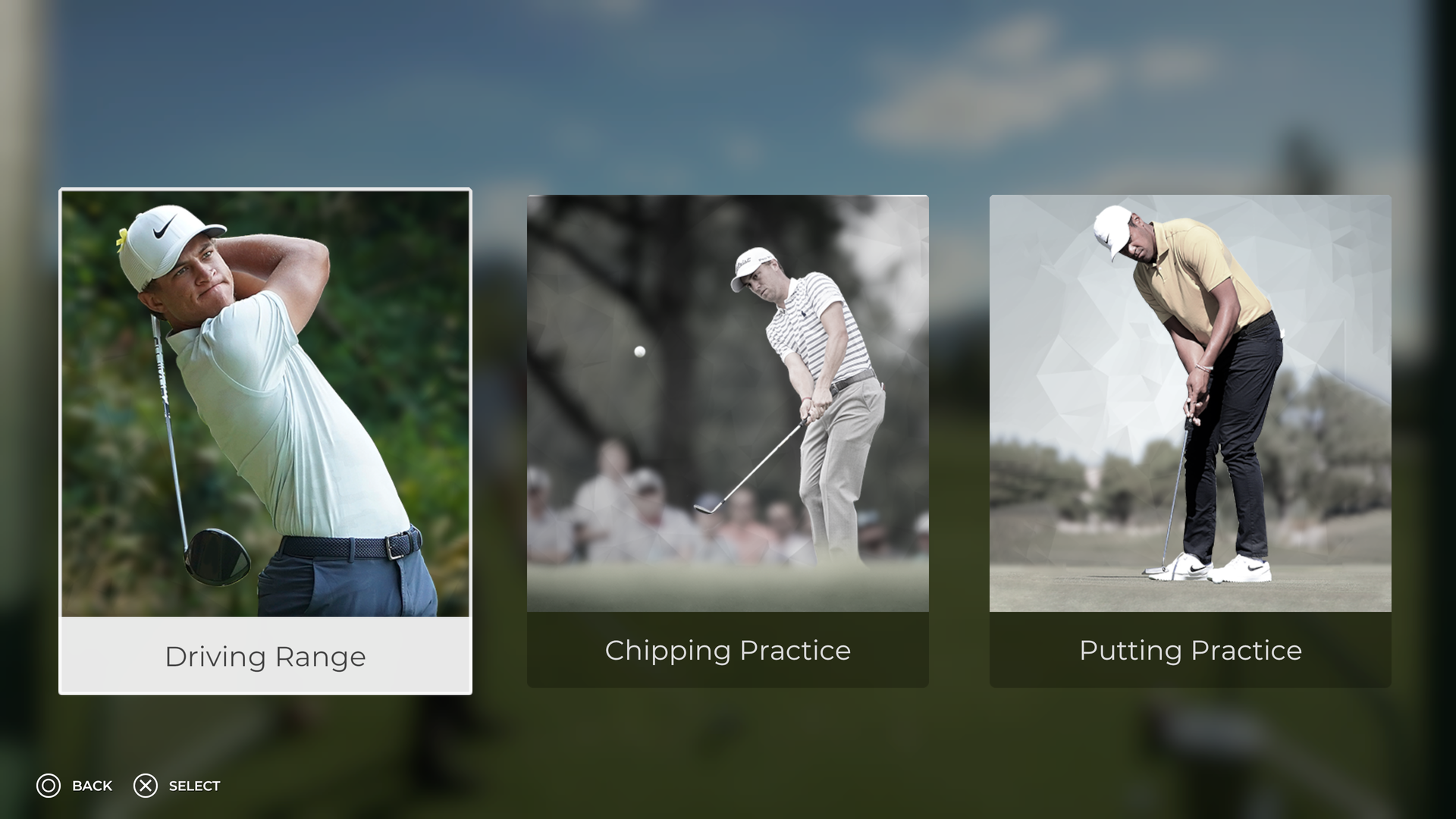 Make sure you check out our how-to guide for some great instructions and tips to help control flight, spin and distance.
Divot Derby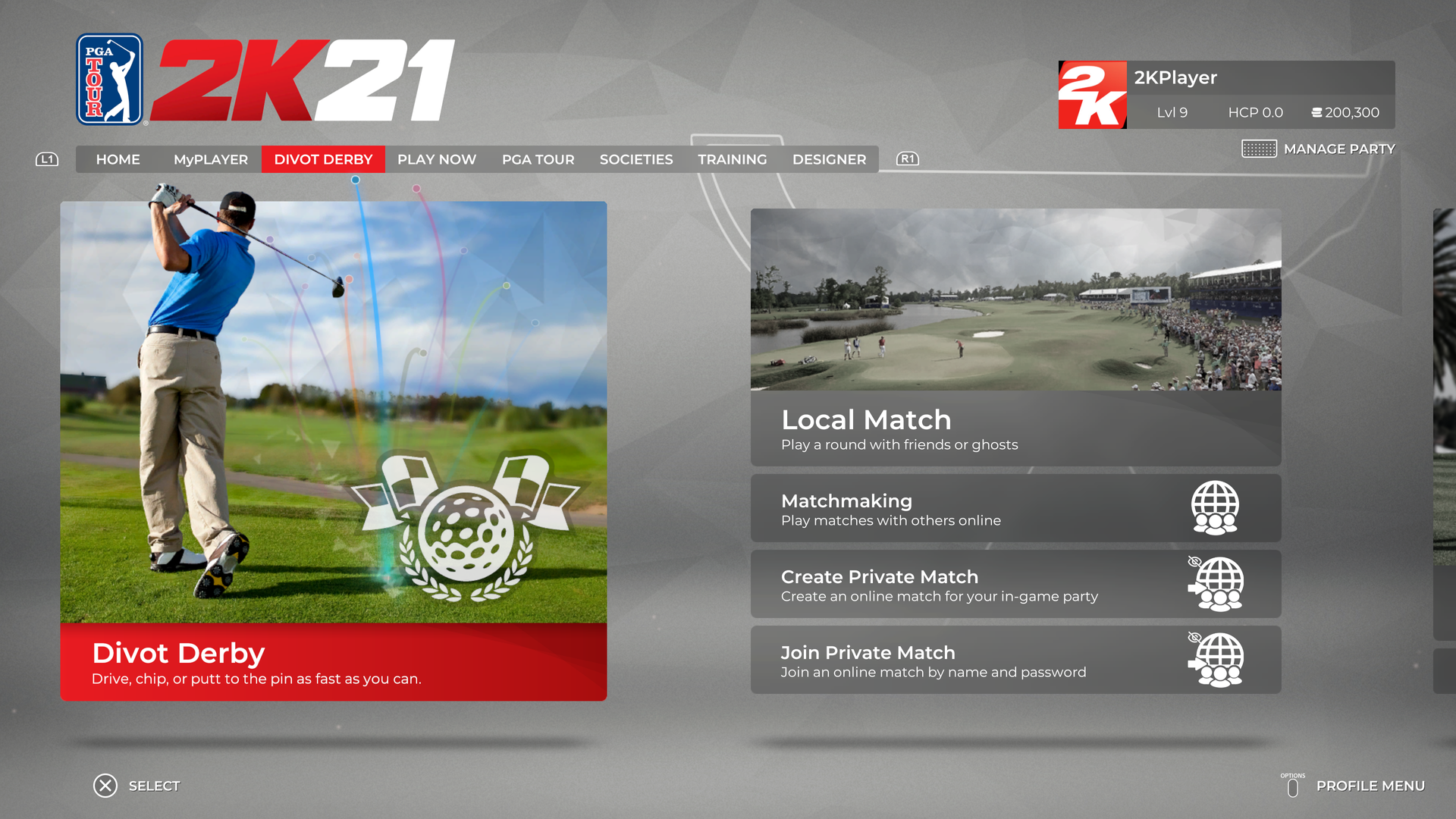 Divot Derby is a newly released mode available via a free update for PGA TOUR 2K21 owners. Up to 20 players tee off at the same time, sending multiple coloured golf balls flying through the air.
You will be on the edge of your seat as you're pitted against the other participants to be the first player to get the ball in the hole. The first golfer to make it to the ninth and final hole wins. However, if you get knocked out early, you can sit back and spectate for the rest of the competition. This mode will bring you some frantic fun with a unique golf 'battle-royale' style gameplay unseen anywhere else.
Course Designer



Unleash your creative side with the endless courses you can design and create in the course designer's section of the game. Although not technically a type of match, the course designer element of the game is just too impressive to miss. There are options to sculpt the terrain using various design brushes, place trees and water holes, change surface texture and much more.
When you are happy with your creation, you can publish and share it with the rest of the 2K21 community worldwide.
If you have not yet got your hands on PGA TOUR 2K21, now is the time to join other golfers worldwide in the best golf simulator available.
Top tip: Purchasing the deluxe edition gives you plenty of unlocked bonuses, including new clubs, to give you that competitive edge.
What platforms can PGA TOUR 2K21 be played on?
PGA TOUR 2K21 is compatible on Xbox One, PlayStation 4, Nintendo Switch, Microsoft Windows, and Google Stadia