For those new to the PGA TOUR 2K series, you may be surprised and quite excited to learn of the course design feature in PGA TOUR 2K21. PGA TOUR 2K21's Course Designer comes with a myriad of exciting features and options to create your perfect golf course.
If, however, you have access to the game and have become overwhelmed with all the functions and abilities the course designer comes with, do not worry! This guide will take you through everything you need to know to get creative and start building your dream golf course.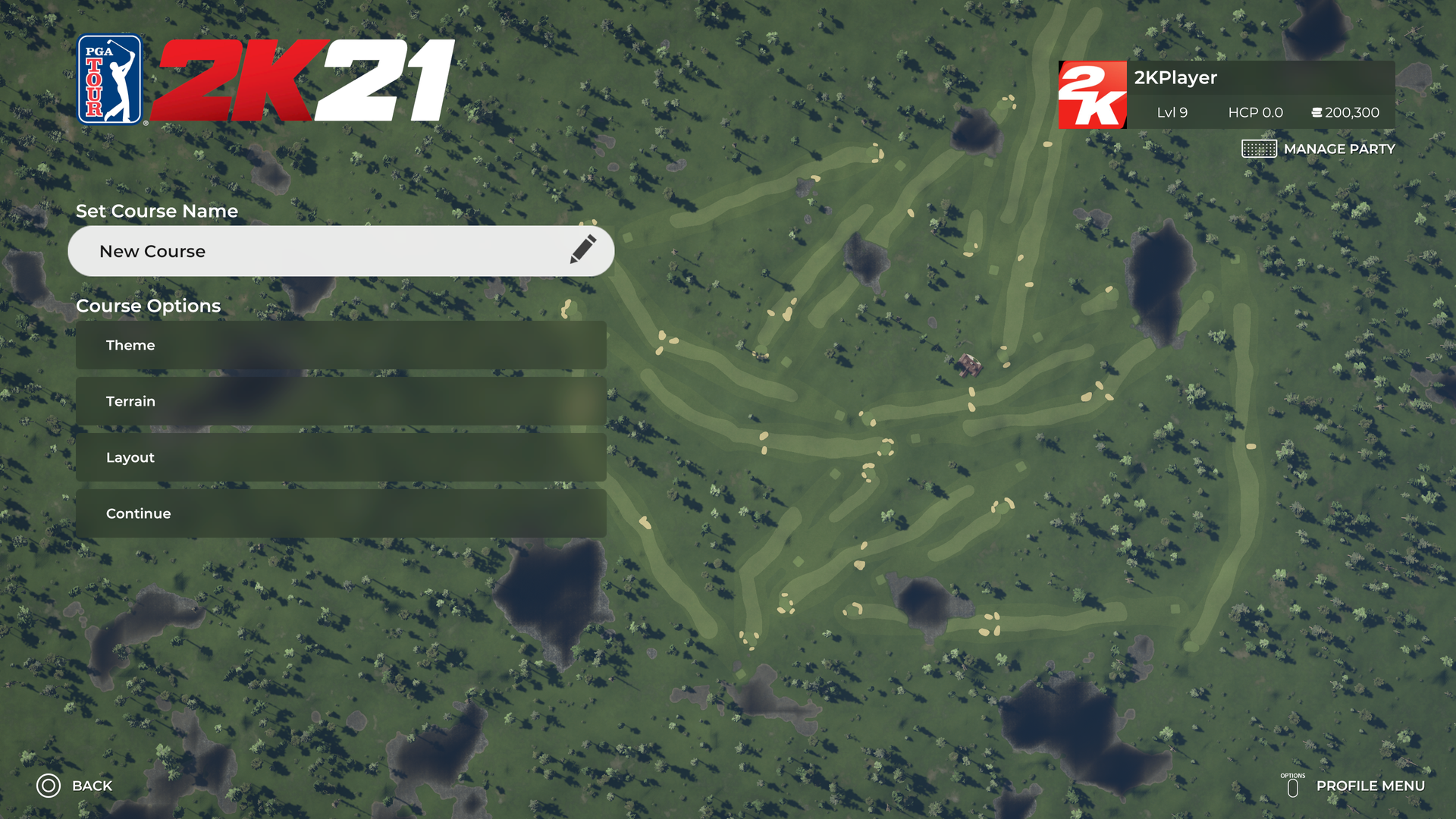 To locate the course designer, you need to navigate to the far right section in the main menu labeled 'Designer'. In this section, you will be faced with four further options:
New Course

Unpublished courses

Published courses

Import a legacy course (from 2019 season)
Selecting a new course takes you to a screen where you can name it and enter the auto-generation part of the course designer. The theme, terrain and layout options allow you to select variables that auto-generate key elements of your course. These options can help you quickly build a course by choosing different sliders' levels. You can, however, strip everything back if you want to make your course from a blank canvas.
Theme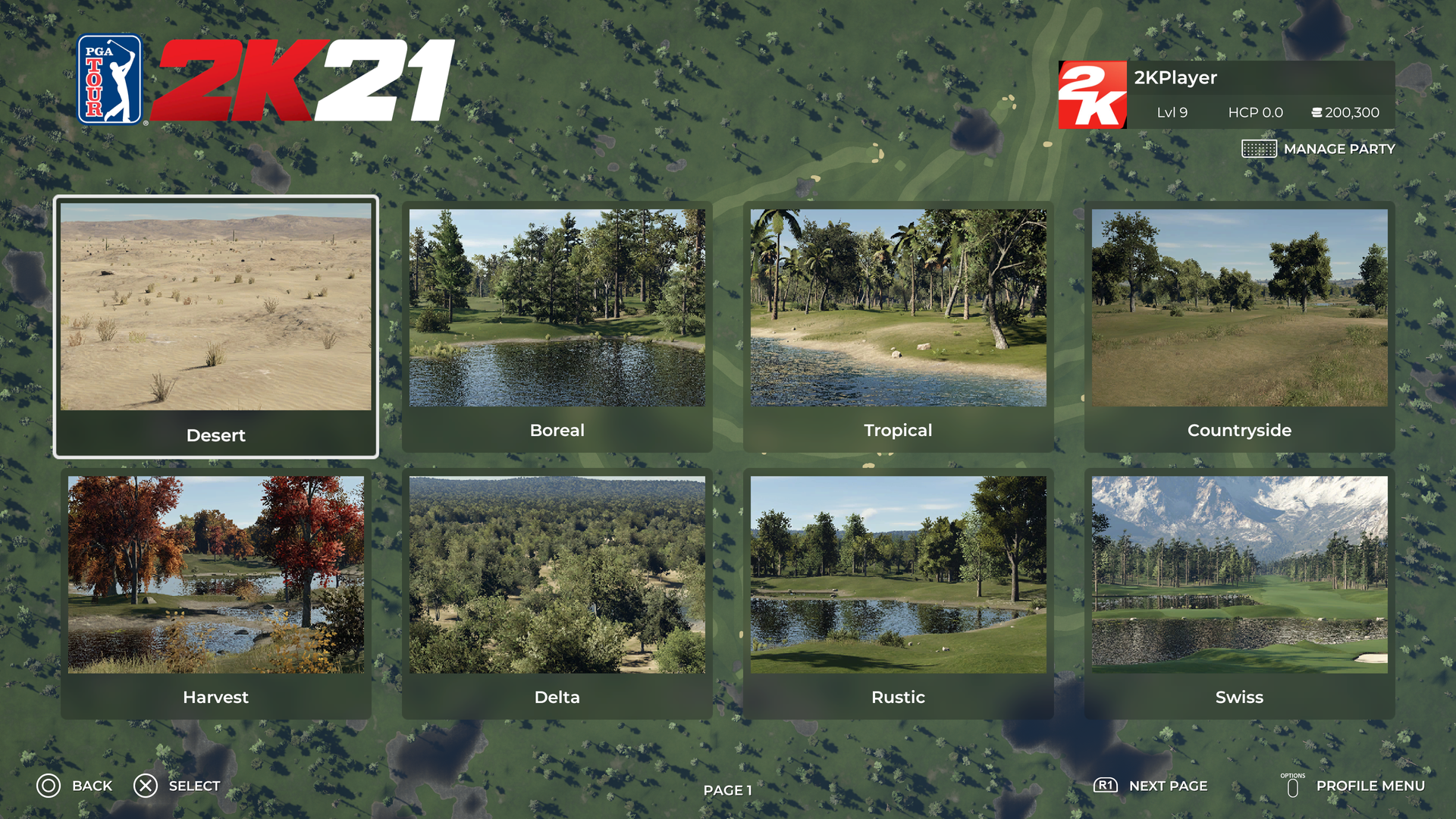 There are 11 different terrain types to pick from, giving you some great variety to the look and feel of your course. Opt for the harvest theme to create an autumn look, or select the desert theme, giving it the dry outback feel. Whatever theme you choose will bring its own variation of trees, water, terrain, and sky.
Terrain and Layout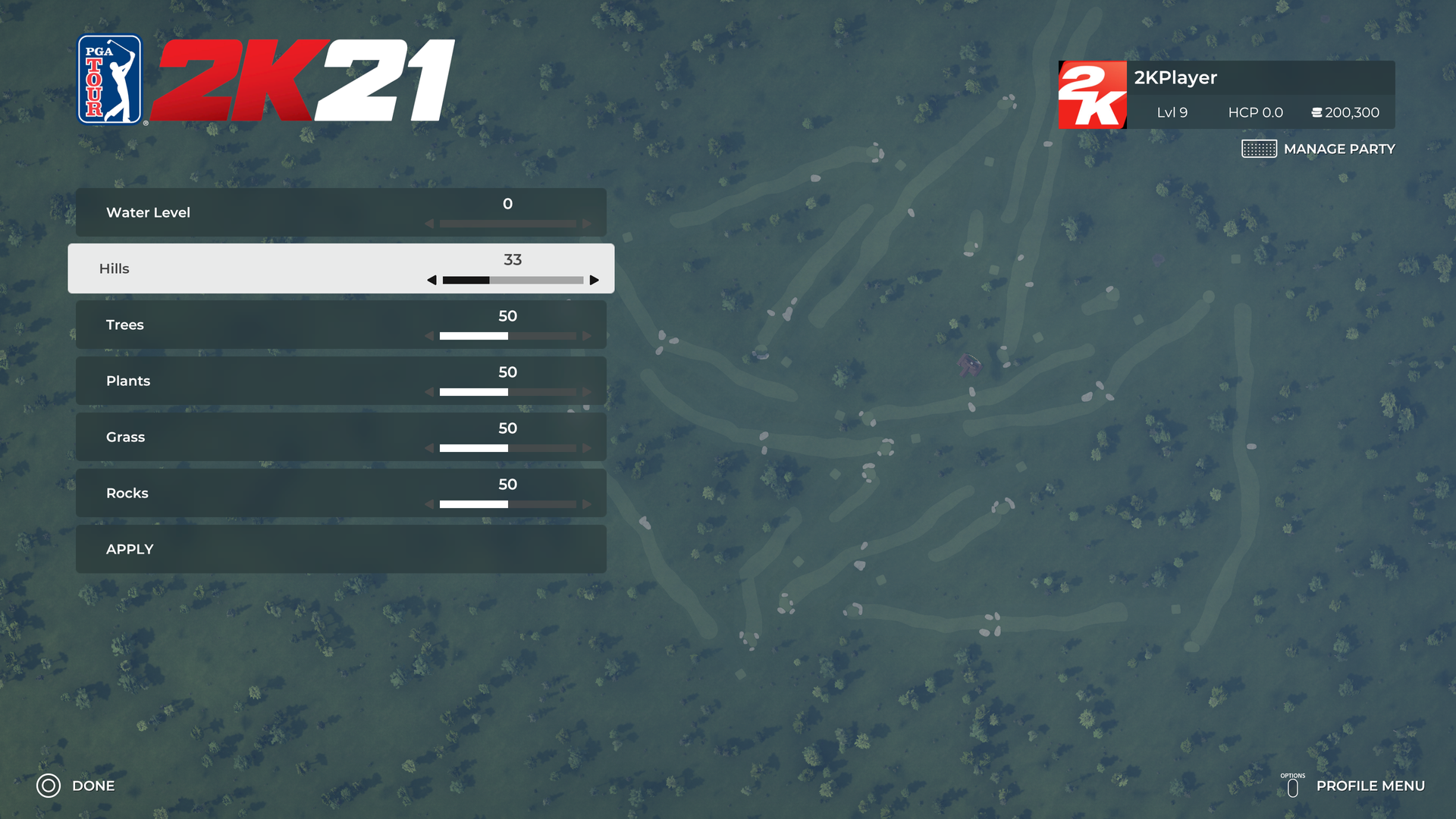 Within the terrain options area, you can select the value of landscape items that will appear on the course, such as; hills, trees, plants, grass, and rocks, using the individual sliders.
With values between 0 and 100, the higher the number, the more objects will appear on the course. For example, turning trees up to 100 will produce the maximum number of trees, sweeping your terrain with heavy vegetation. You can play around with these variables to get exactly the look you want, and anything generated in this section can be removed or added when you get to the designer dashboard.
The Layout section has similar sliders but with different preferences. Here you can decide how many holes you want the course to have, the number of par 3s and 5s among them, fairway width, amount of fairway bunkers, size of the greens and total value of green bunkers.
If you select the maximum number of trees and grass in the terrain options but select 0 values on all the layout options, your course will start with a clean slate, as seen below. This may be helpful to those who want to create a golf course from scratch.
Did you know? Not only can you create and design your own course,  you can customise your golfer to make them look just like you!
When you have decided on the layout and terrain options, you can hit apply and continue. You will then be directed to the designer dashboard area. This is where all of your course building and designing happens.
The Designer Dashboard
Flying around your golf plot, zooming in and out, and panning the camera is essential to learn before getting to grips with anything else. The controls for your device are listed on the right-hand side of the dashboard. Take some time to get comfortable navigating around your environment.
Most of the building and design options will be selected from the left-hand side panel under the playtest, edit and settings tabs–each offering different options and features.

Playtest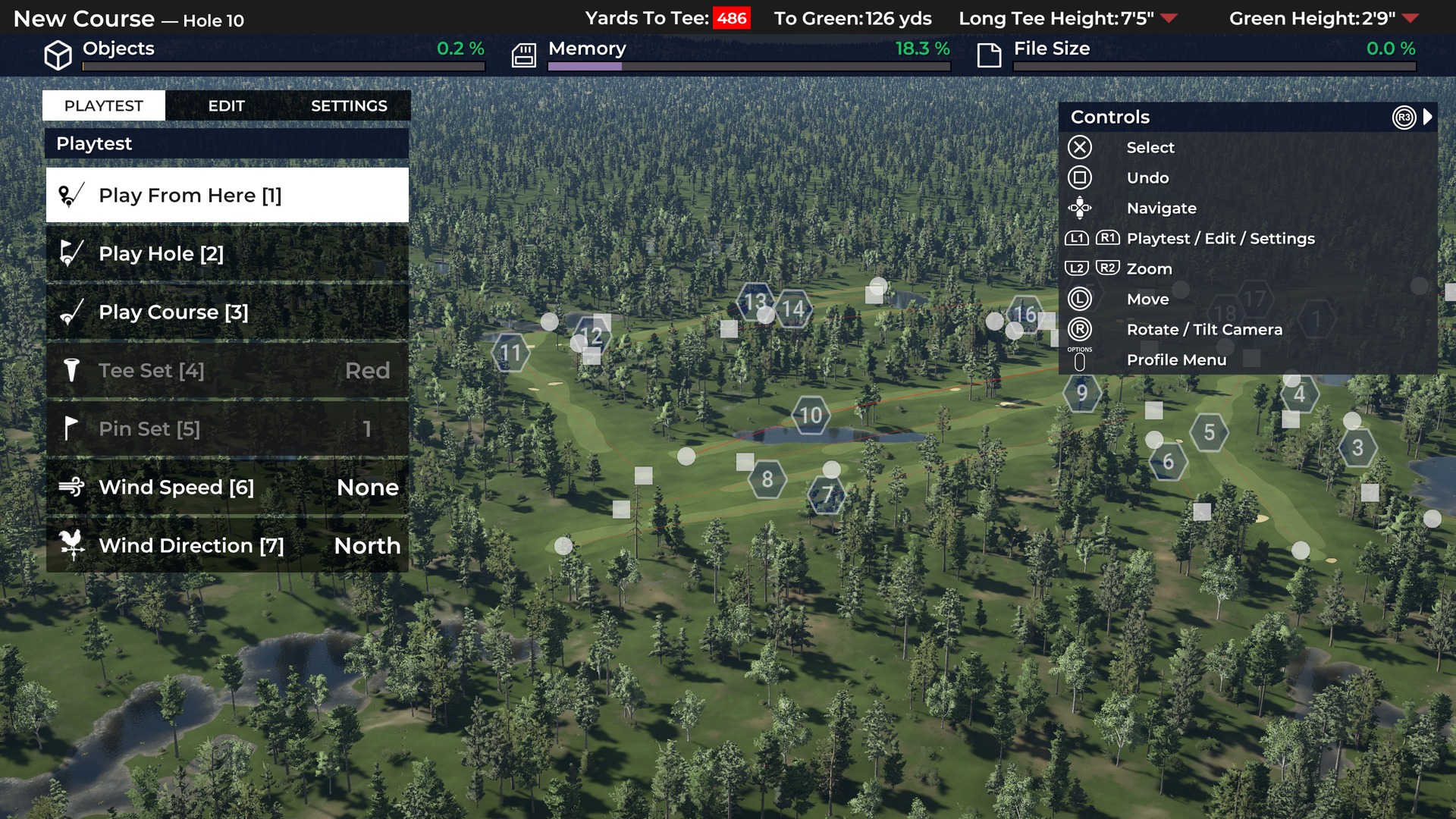 Play from here

- Test out your course at any time from your current location.

Play course

-

Test out the entire course from beginning to finish.

Tee Set

- Choose from a selection of different tee sets (you have to add at least one additional tee set yourself) 

Pin Set

- Choose your style of pin (but only if you have added at least one additional pin to the course yourself) 

Wind Speed

- Change the strength of wind speed from None, to Very High.

Wind direction

- Change which direction the wind is coming from.



The playtest area provides you with the options to test out the course. This is a valuable feature as testing out a particular hole midway through its build will allow you to spot any obstacles such as rocks that may get in the way or water holes too close to the pin. In addition, the playtest area is essential for quality control, aiding the process of making alterations and improvements for better gameplay.

Edit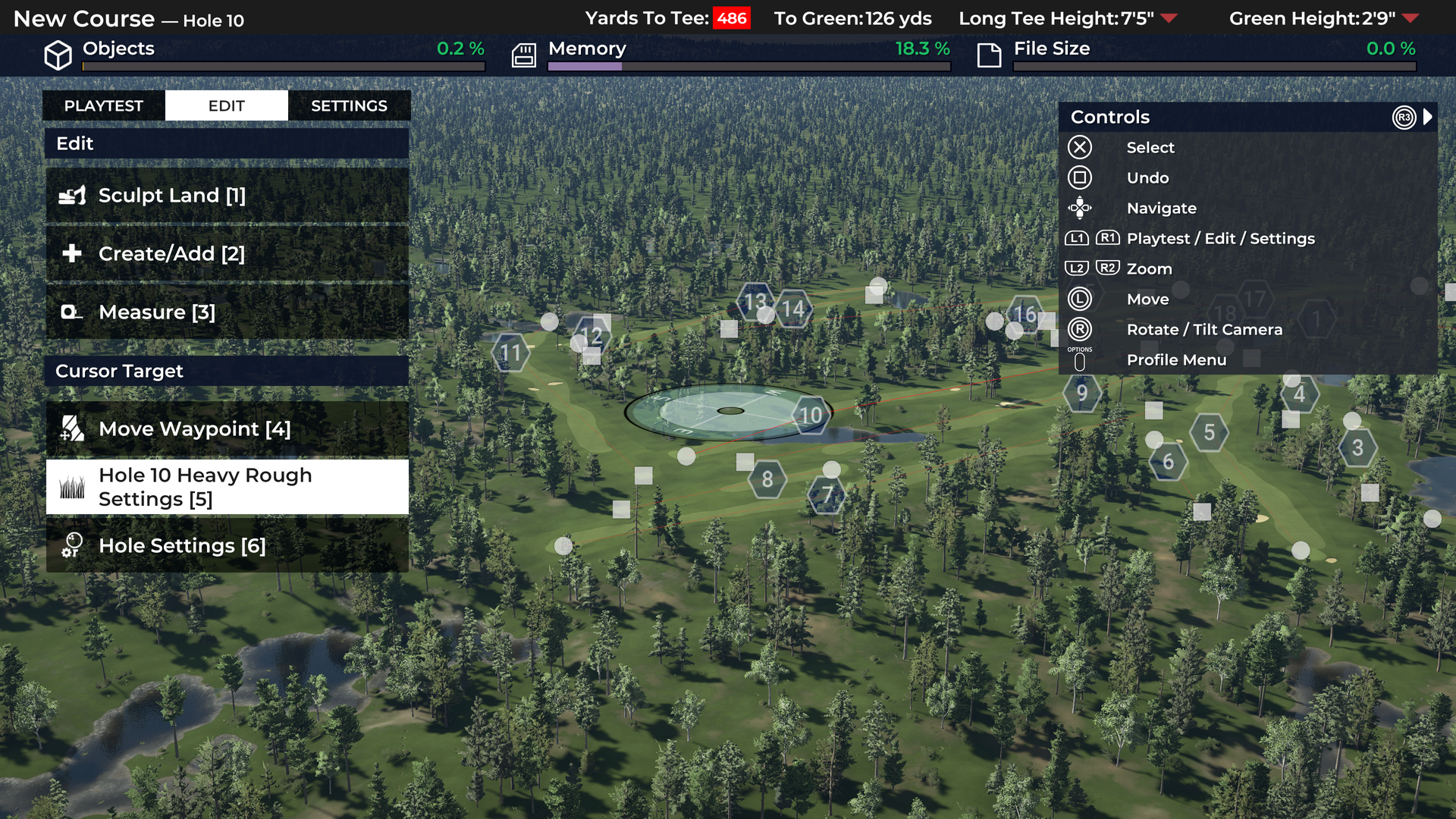 Sculpt Land

- Using the sculpt tool to raise or flatten the land.

Create/Add

-

Place objects and create surfaces, water, tournament objects and out of bounds areas.

Measure

- This measuring tool is essential for measuring distance between different features on a hole (e.g. tee to landing zone and various hazards).

Terrain cursor Point

- Edit the object or part of the terrain the cursor is currently pointing at.

Hole Settings

- Reorder, swap, move, delete or change holes and their par level. This button opens options for the hole nearest the cursor.
The edit tab is the place to make all your edits happen, including sculpting, placing objects, and measuring distances–all of which are integral to the build itself. 
A key component of the edit tab is the 'cursor target'. This displays buttons for objects the cursor is currently pointing at. This includes:
Surface brushes and splines 

Bodies of water

Hole waypoints 

Generated surface settings 
This is what makes the game so dynamic and is an incredibly important feature as it allows you to personalise the course exactly how you want it. 
Settings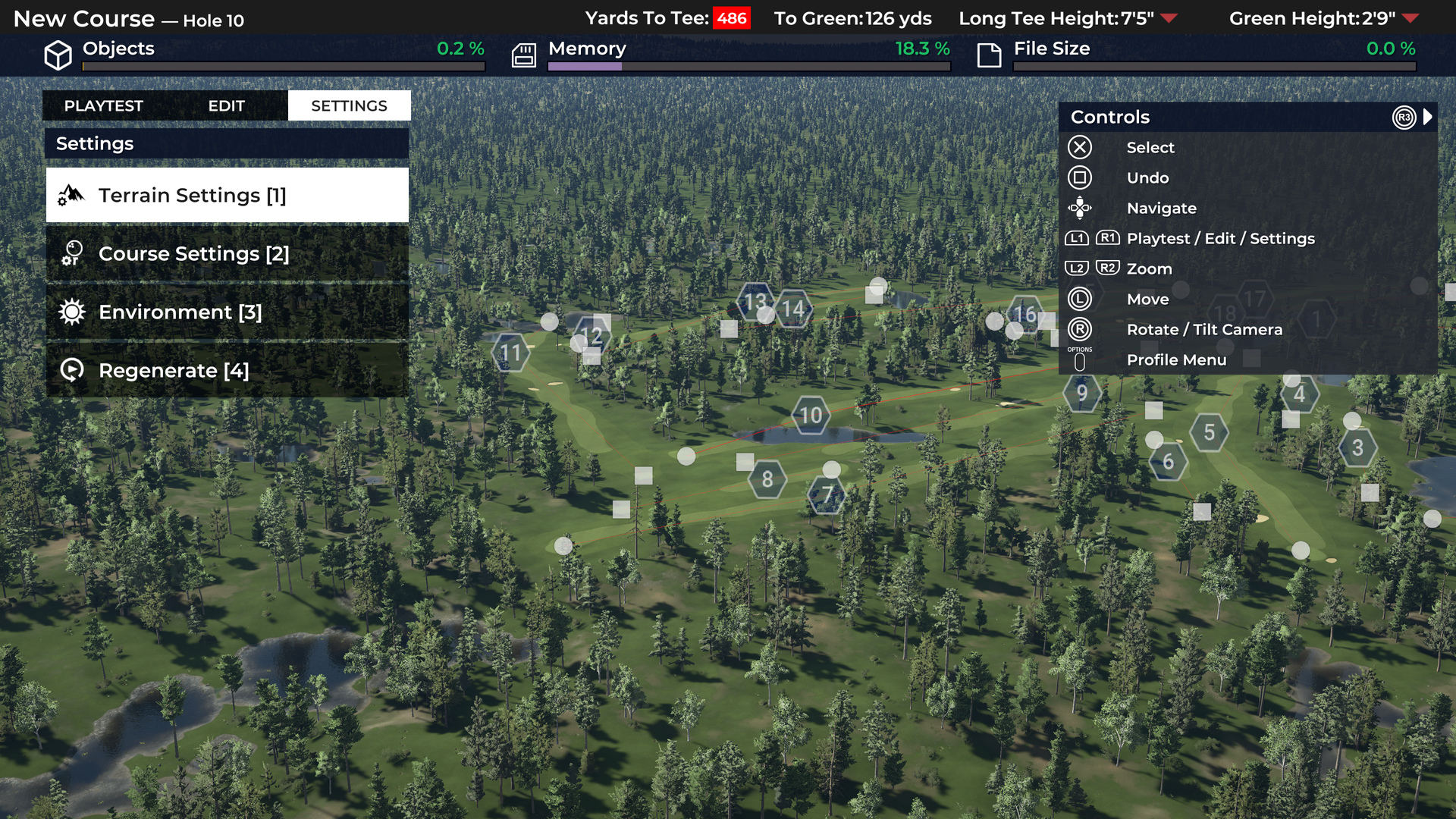 Terrain settings

- Change the theme and values of auto generated items.

Course Settings

-

Modify tee box, fairway, green or bunker settings.

Environment

- Modify time of day, lighting weather and backdrop



Regenerate

- Regenerate new terrain or fairway layout and modify number of holes and par level. Regenerating will delete your current course and create a new one.



Looking at the top bar within the dashboard will reveal some further details you may want to keep an eye on. 
This will display the name of your course, as well as valuable information such as the current hole nearest the cursor, and the various distances and elevations relevant to that hole. 
You will also find three other pieces of important information; objects, memory and file size.
Objects
This refers to the amount of placed objects you have in your scene. You need to keep this below 100%. Adding auto generated trees or other items will not affect this bar.
Memory
Every new, non-theme object you use is counted against memory. Again, try and keep this low for more optimised courses. 
File Size
This refers to the amount of data the course takes up and the file size of the course itself. The more detailed a course is, the greater the file size will be.
Sculpting and Elevation
Sculpting is where your artistry skills come into action, with the ability to sculpt and manipulate your terrain using various brushes. From creating hills or canyons to developing islands and streams, there are endless possibilities to sculpt any style of course you desire.
To start sculpting, select terrain settings in the edit tab. You then have the option to raise or flatten using either the landscape or sculpt tools, then an option to select your brush type.
Once your brush is selected, you will notice your cursor takes on the outline of the size and shape of your brush type, with a blue or red hue, depending on the tool selected.
Raising the terrain will force the land within and around the brush to pull upwards, and flatten, as the name suggests, will flatten the terrain like a rolling pin–great for getting rid of those lumps and bumps on the green.
The Landscape and Sculpt tools may seem confusing at first as they appear to do the same thing; however, there are subtle differences in how both tools are used.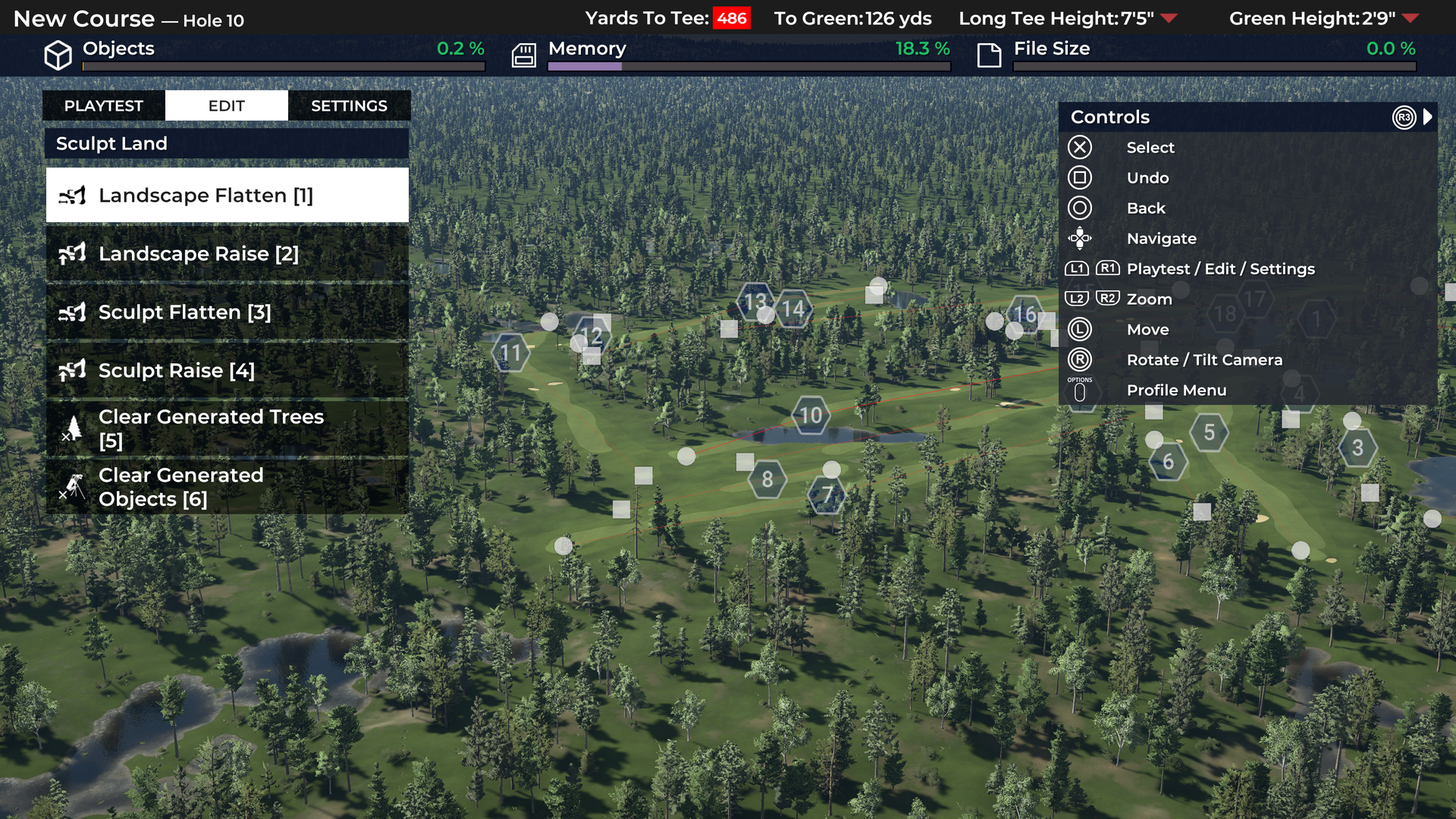 The Landscape Tool (blue brush) changes the modified terrain and overrides the sculpting command in the chosen area. It also overrides any flattening or smoothing done by the various surfaces on the course - such as fairways and greens. 
In other words, the blue brush is the dominant tool, and the red brush (sculpt tool) makes changes only to the default terrain. These can then be flattened and smoothed by specific surfaces on the course, such as a green. For example, adding a lump to the centre of a green with a red brush will get flattened out. 
In most cases, you may find that you will opt for the landscape tool when editing and only use the sculpt tool occasionally on default terrain areas. Either way, learning to mould the land to your liking can take some practice, but this will become the canvas for your fairways, bunkers, and greens when you get the hang of it.
Top tip: after making changes to the terrain, make sure you navigate the camera to the ground (eye level) to see the changes from the golfer's perspective.

Types of Brushes
Knowing and understanding the different types of brushes are essential as they dictate the shape and characteristics of each modification, similar to painters using different brush sizes to create varying brush strokes.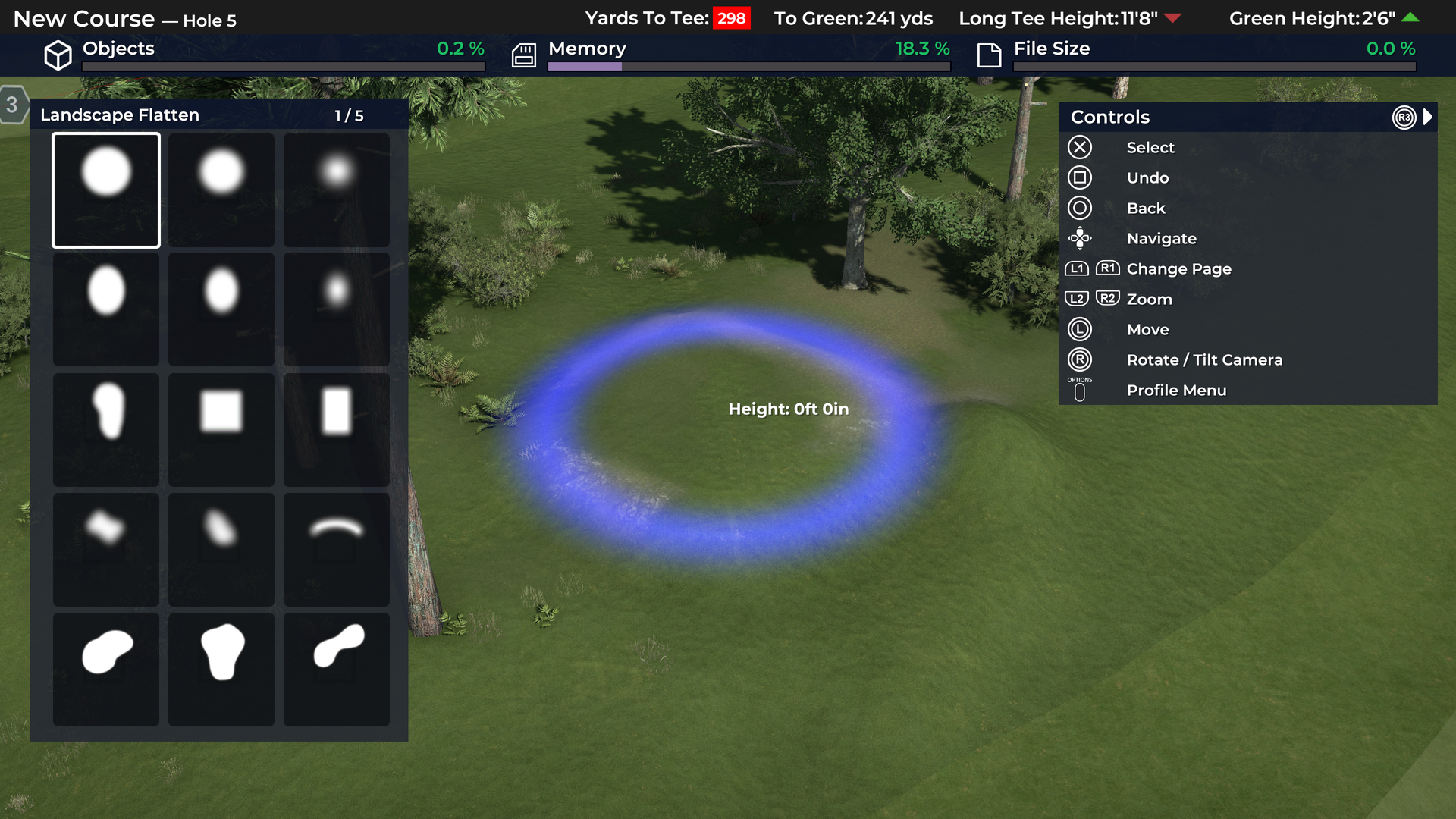 There are 69 different brush types in total, each with their distinct shape and characteristics of soft or hard. It is worth playing around to see each brush's various effects on the terrain.
All these brushes are pre-made, and the size of the brush can be altered by pressing the correct control on your device. Again, the control panel is located on the right-hand side of the dashboard.
Fuzzier edged brushes are not as hard on the terrain, allowing for subtle changes compared to less blurry brush types. However, the different shapes can come in useful if you want to place bunkers or fairways quickly.
Placing Objects
Placing objects in your environment will make your course come alive. Changing the aesthetics of your golf course using shrubs, bushes, rocks, water holes, bunkers, and more can be found under edit > create/add.
Everything from different types of vehicles to furniture, signs and bridges can be placed anywhere in your environment and is easy to do–just select the object you want and place it on your terrain using the cursor.
However, to make your course look natural, you may want to spend a little time looking around your plot and plan where you might place particular objects.
The categories of objects that can be placed from the create/add section are;
Tress

Rocks

Plants

Grass

Fences

Buildings

Furniture

Signs

Bridges

Equipment

Vehicles

Wildlife




Nature
Each category has multiple different objects and variations to choose from, allowing you to create lots of variety for your course. 
Do bear in mind that any object placed, regardless of theme, will increase the object bar. Only new types of objects on the course could increase memory (e.g. placing the same rock over and over increases the object bar each time; but only the memory bar once).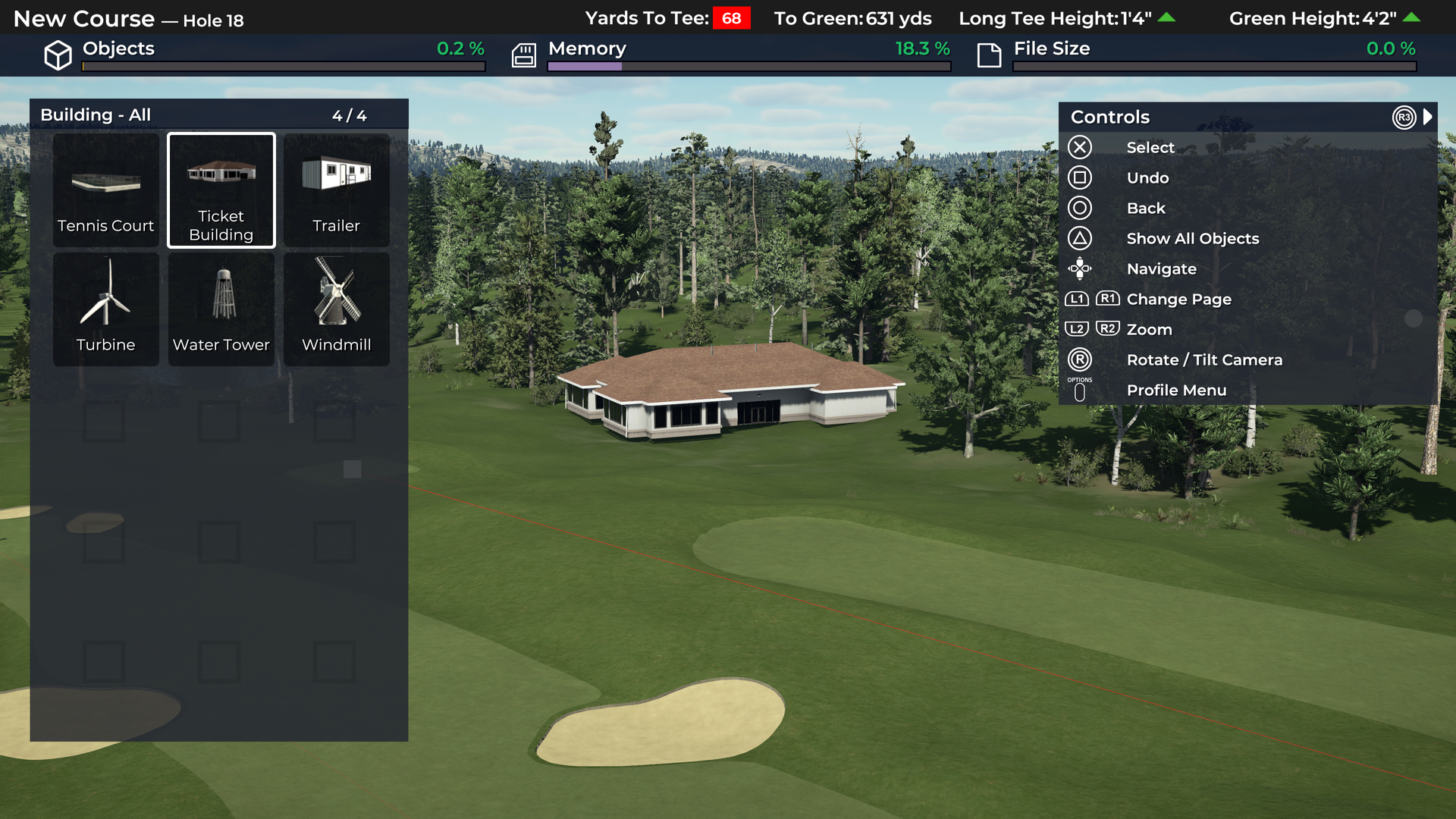 Creating a green fairway and bunkers
To start creating fairways and bunkers, you will need to head over to the edit tab, select create/add and then create surfaces. You will then have options to build bunkers, greens and more.
You can lay down your surfaces in two ways, using brushes or splines. With brushes, the surface will lay down according to the shape of the brush, and by rotating the brush and changing its size, you can continue to lay down your desired surface.
Using the brush is a quick and easy way to start laying down your fairways and is pretty self intuitive.
Splines allow you to draw surfaces in custom shapes. Use markers and handles to create a bézier curve that is projected onto the terrain.
Although slightly more time consuming, marking out your fairway area - or any surface - with splines gives you greater control over its shape than using the brush tool. When you have joined up the first spline point with the last spline point (i.e. in a loop), pressing the back control button will complete the selected area.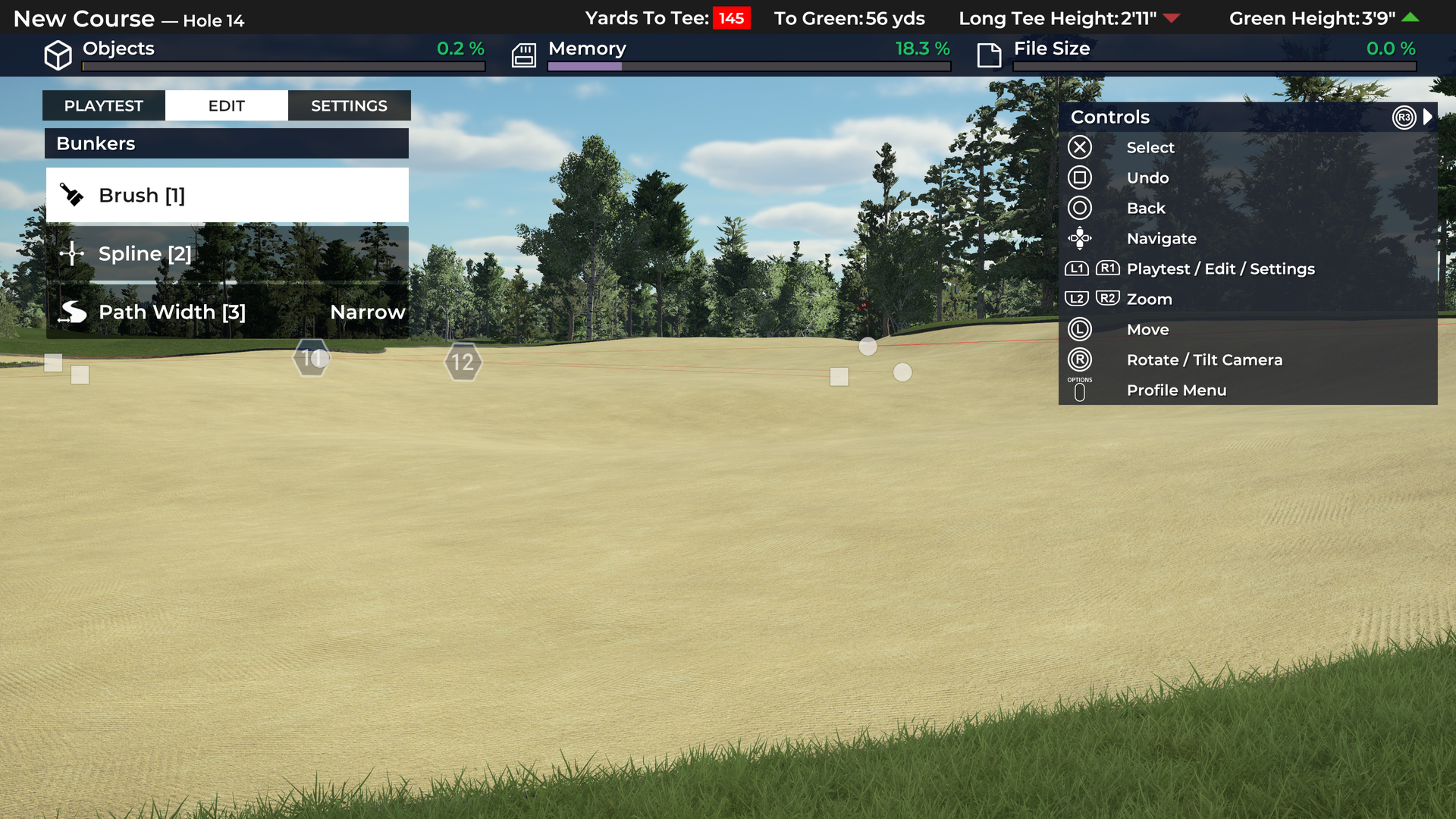 The fairway, however, is not yet complete. The spline path will be connected to the surface, but the middle part will be missing. We need to fill this area with a surface type.
On the spline path, you will have access to points and handles. Clicking on the spline points and toggling over to the edit tab, you can change various surface areas, including an option to fill the spline in, completing your fairway.
Aside from creating and plotting the fairways, adding some challenges to the game is essential. This is where bunkers come into play. Bunkers are great for swallowing up golf balls, causing frustration amongst golfers to try and pluck their balls back on the green.
Similarly to creating fairways, there are multiple ways to make bunkers. However, using the brush tool is the quickest and easiest method. Go to the edits tab and select create/add, then select surfaces followed by the bunker option.
You can also create your bunker using splines, following the same process we use for creating fairways.
When you have placed your bunker, it automatically creates a slightly dipped surface with an edge to the rest of the terrain, giving it some depth.
You can use the landscape tools in the edit tab to add more depth. It helps to use the brush in small increments to prevent you from going too deep too quickly in particular areas.
Changing the Environment
Adding even more options and customisations to your course, the environment settings will change the landscape, weather and lighting of your scene.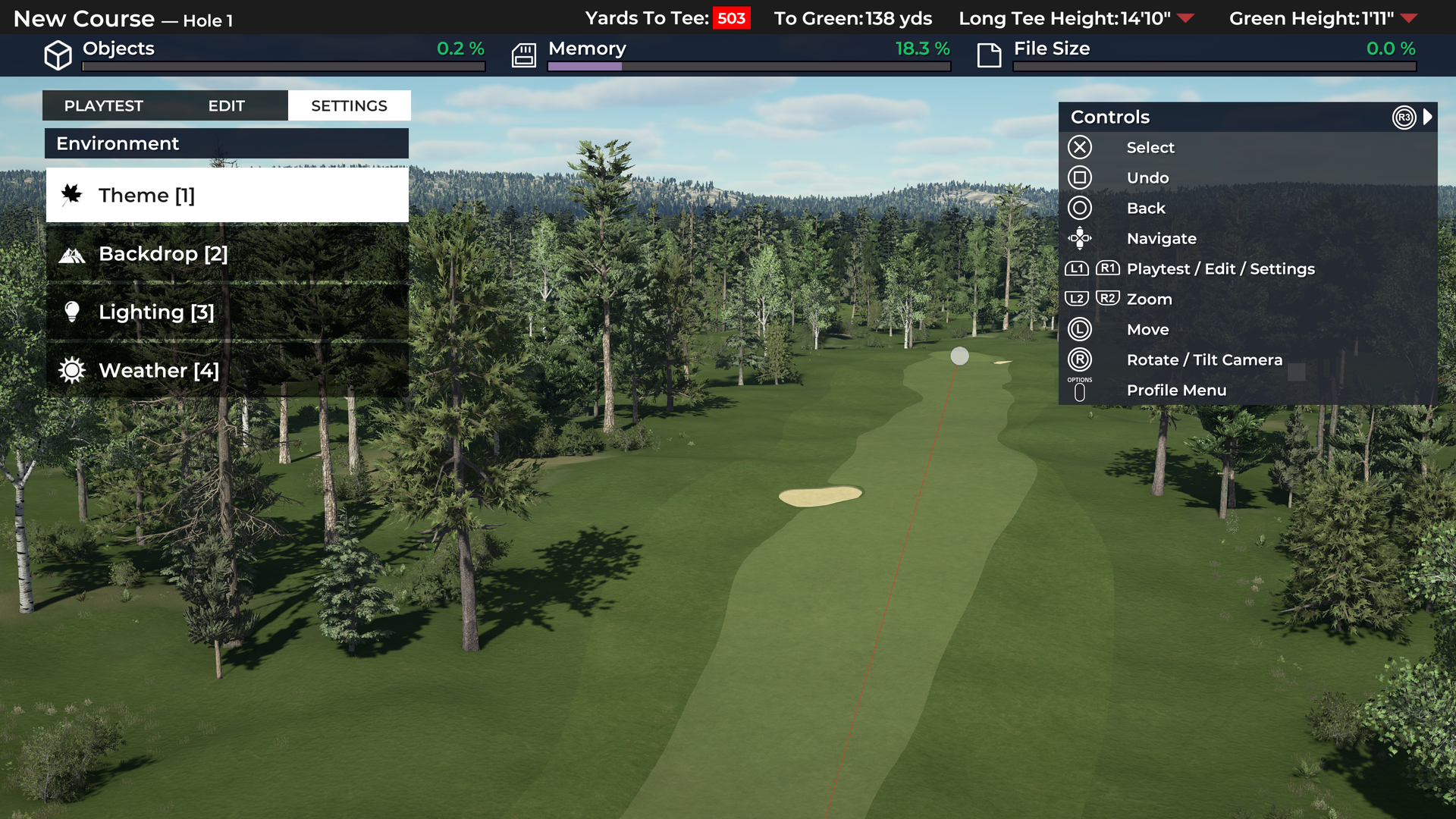 Navigate to the settings tab and select the third option, 'Environment', to get to the environment settings. We then have four choices; theme, backdrop, lighting and weather.
Theme takes you back to where you can change the overall theme of your course–handy if halfway through your build, you decide you want to change themes.
Backdrop changes the extended landscape around your course with low, medium and high mountain ranges or island backdrops if you want your course on a beach location. It is worth noting that some backdrops are only available on select themes, so you should experiment with what is available for different locations. 
Lighting allows you to modify the direction and intensity of the sunlight by changing the light source's time of day and orientation. You could even opt for a dusk scene, but be careful that it's not too dark to damage visibility.
Weather options include light cloud, overcast, rainy and clear, with additional settings to include haze and fog.
Publishing your course
When you have created your masterpiece it is time to get it published for the PGA TOUR 2K21 community to try out. You can do this by selecting the publish course option in the pause menu. When your course is finally published, anyone who searches and finds your course will be able to play it with options to play different types of matches on it.
Top tip: You can't rename a course once it is published, so it would be useful to select the name you want before you publish it. 
To make changes to any published courses, you will need to edit and republish to see these changes take effect. 
However, what this will do, is publish a new version of the course, rather than an update to the existing published course. This means the original course will still remain stored on the database, as well as your edited version. 
Did you know? All the courses you make and publish are cross-platform, meaning it doesn't matter what console other players have, people worldwide can still enjoy your creations.
Design tips
If you struggle with where to start within the designer dashboard, place your first hole and then build from there.

The landing zone of the ball should be somewhere between 250–300 yards for a par 4 or 5.

You can change the auto-generated terrain option inside the designer by going to settings > terrain settings.

Don't rush! Designing a great course takes time so take it step-by-step.
If you have not yet got your hands on PGA TOUR 2K21, now is the time to join other golfers worldwide in the best golf simulator available.